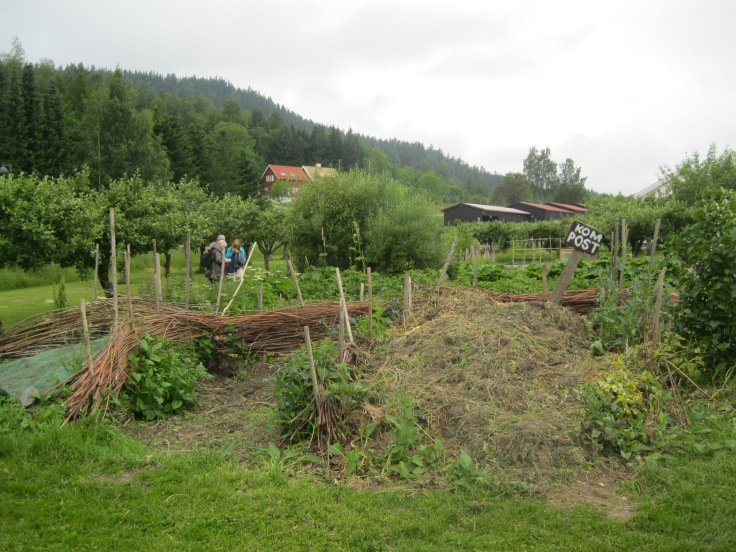 By Elizabeth Henderson
Oikos – Organic Norway paid me the great honor of inviting me to be the keynote speaker for their second annual CSA conference, June 23 in Oslo. The gathering took place in a building called Sentralen that looked like an old (maybe early 19th century) public building, but now serves as a cultural center with spaces for a café, theatrical performances, and workshops. I did not get to explore the many rooms and layers. By 10 am, the 80 or so seats were full of farmers, food activists and a few researchers. Currently in Norway there are 40 CSAs – Andelslandbruk – and 20 more in formation. Most of the 40 are only a year or two old – there were four in 2012. The concept has been catching on quickly. Farmers have initiated only about half of the CSAs. Groups of consumers have started, and continue to run the others, often structuring them as coops and renting land from a farmer who may get more involved after a while. They call the people they hire to do the growing – "gardeners" since the scale of most CSAs so far is pretty small and a few groups do all the work themselves.
The official policy of the present Norwegian government is to encourage fewer, bigger farms. With only 3% of the land suitable for farming, Norwegian agricultural production is limited and most of the food comes from abroad. In the fjords, there are big salmon farms largely for export, and Norway still has an important fishing fleet. Yet as in other European countries, farms are struggling to stay in business. The statistic Oikos folks quoted was Norway loses 5 farms every day.
Oikos is a not-for-profit that resembles NOFA-NY with one important difference – Oikos receives regular funding from the Norwegian government which wants to encourage organic agriculture. Members number 5348 in 20 local chapters. A team of two heads up the Oikos CSA project – Marte Guttulsrod and Alexandra Devik, bright young women who could not be over 30. Alexandra has written "Handbok for a starte Andelslandbruk" (test your Norwegian!), that covers all the basics of what, why, and details of organizing, recruiting members, budgeting and crop production.  A separate organization, Debio (active since 1986,http://www.debio.no), handles organic certification.
The conference organizers gave me an hour to speak with another half hour for questions and discussion. It went very well. I spoke in English, but I know they understood since they laughed at my jokes. I talked about why CSA came to be, its history around the world, what the term means, the varieties in different countries, Urgenci, the international network, and then my own experience with a focus on the qualities that have enabled Peacework CSA to last for 28 years, with examples from other long-lasting CSAs. The questions I recall were about the role of CSA networks and pricing.
After a quick lunch of sandwiches during which attendees networked happily, there were presentations on Oikos, on organic certification, and other resources, and a very lively conversation about creating a CSA charter. There was a lot of discussion of whether to use the word farmer or gardener for the people who grow the food. Then there was a choice of 3 workshops on administrative issues, economics and communications. I attended the session on economics.  Most of the time was spent going around the room as each of the 20 people described their CSA. Two of the three panelists never got to present.  Marte told me the other two workshops were more successful. An administrative issue we do not have in the US is the VAT (Value Added Tax).  So far, CSAs run by farmers have to pay the VAT, but consumer-run projects do not since the CSA itself is a not-for-profit.
A delightful woman named Jolien Perotti, who started the first CSA in Norway, kindly translated enough for me so that I had some idea of what was going on. Jolien is a woman in her 50's, trim and energetic, with round blue eyes in a round face. Whenever she speaks, she elicits laughter – she has the knack for talking about the horrors and stupidities of modern food and agriculture with humor. Her origins are Dutch, but she has been in Norway for many years. In Holland too she helped get CSAs started, but gave them the odd name Pergola.
After the workshops, we all piled into a bus to ride to Overland Farm where the first CSA was celebrating its 10th anniversary. Overland ranks as one of the largest CSAs and has grown to 250 shares, 450 individuals (children count as ½ share). The core group runs the CSA with the chairperson paid 20% of a full time salary.  The rest are volunteers. One of the core activists complained that most members are not very active. A few people do most of the work.
Overland Farm had belonged to a wealthy family, but when the last member was dying, he made the farm into a public trust to encourage farming in Norway. A board oversees various activities, including the CSA. Jolien works there giving classes for the 500 children in two Waldorf schools. The gardens she works with the children are beautiful – they probably learn a lot and have fun doing it.
Each kindergartener plants a baby Christmas tree and then 12 years later as a senior harvests the tree. Jolien gave me tours of the children's garden and of the CSA vegetable production area, about 5 acres.
The CSA also has chickens and a small greenhouse.  Two men work as the gardeners for pay, as consultants or some such status. Jolien is impatient at the failure of the core group administrators to make the gardeners regular employees with health insurance and other benefits. Oikos may soon solve this problem with a new project to provide services in setting up legal employment paperwork for any CSA that wants it.  This resembles the notion I have been trying to inspire for a cooperative office that farmers could share to do all the paperwork they hate.
The anniversary banquet took place under a tent since storms were expected, though luckily passed us by. The occasion was festive with many speeches and a few songs. The special feature of the menu made up of Norway organic farm foods was dishes made from weeds. There were delicious concoctions with dandelion flowers and pickled plantain leaves and buds. (I got the recipes!) The main drink was elderberry flower juice sweetened with honey.
Jack and I spent the next 3 days seeing the sights of Oslo – the Norwegian folk museum – reconstructed farmsteads and crafts people at work, an exhibit on the Sami people, their history and culture. We went to the Munch Museum which had an odd exhibit on the influence of Munch on Jasper Johns (not my favorite). I would have preferred more Munch and no Johns. Next door was the botanical gardens so Jack sat at the Munch café while I zipped around the greenhouses and plantings. I usually have to walk at top speed to keep up with Jack's stride, so it is awkward having to slow down for him. We went to the Museum of the Resistance and got a thorough history of Norway during WWII. And the Nobel Peace Museum where the featured exhibit was on Carl von Ossietzky, who received the prize for 1935, though it took an extra year for the committee to decide to give the prize to a dissident journalist in Nazi Germany, a pacifist and a very brave man of great integrity. It is an excellent museum with many interactive exhibits designed for children.
Monday evening Jolien came to meet us to take a ferry to join Marte and Alexandra for an evening together at a restaurant that cooks only with organic ingredients. From the ferry, we rode another 10 miles or so to the restaurant which is in an old country home on the shore – a lovely spot and the meal was delicious, a creative salad with sprouted mung beans and dabs of carrot pesto (carrot, garlic, ginger, butter and agave sweetener.) Marte and Alex had spent the day at Oikos in-service training – on running a project, and their report back to the other 17 people on the staff on agricultural issues.  Over dinner, we weighed the advantages and disadvantages of a CSA network that is independent and run by the CSAs themselves or a project of Oikos, how a network might be funded, and the complex issue of land prices and control. They report that Norway is 15 -20 years behind other Scandinavian countries is the development of organic agriculture. With a large land area stretching way to the north, a small population of 5 million, and so many forests and lakes, the ecological crisis seems less pressing here, though the attrition of farms is severe. In food stores we saw no Norwegian fruit except the very first local strawberries and only a few vegetables.
It will be fascinating to see if CSA becomes a permanent feature of the farming landscape in Norway. Will the initial non-farmer volunteer energy continue? Will farmers take it over? Will the Norwegian cooperative spirit influence the growing network of CSAs throughout Europe?