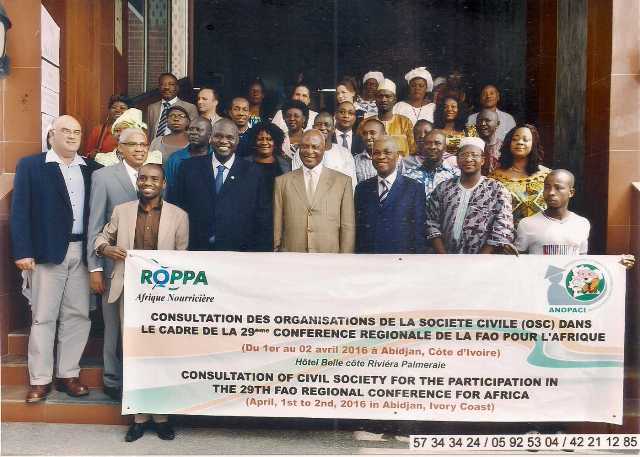 Africa has always been a continent where Agroecology was practiced before the introduction of chemical inputs in the 1990s. This is when peasants turned to 'conventional' agriculture. Many African small-scale producers are now trying to return to Agroecology, to grow crops that are healthy both for humans and the environment and to win food sovereignty.
On 18th February 2015, a meeting took place in Ouagadougou (Burkina Faso) that brought together the NGOs and actors involved in Agroecology from Mali, Burkina Faso and Togo. This is when the ROAPC (Réseau de L'Ouest Afrique de Producteurs et Consommateurs) was born. The network facilitates technical exchanges in Agroecology between peasants in the region. It also works on raising awareness of consumers in the growing number of AMAPs (CSAs).
In November 2025 a delegation from Mali and Togo  ROAPC took part in the 6the URGENCI International Network Conference in Beijing. They resented their programme for creating and developing CSA (AMAPs) in 6 West African countries where they did not yet exist in a significant way: Ghana, Côte d'Ivoire, Senegal, Mali, Burkina Faso and Benin. URGENCI supports this project, and is committed to trying to raise the necessary funding to do this. Currently URGENCI is discussing this with the German NGO, Bread for the World.
Since November, Simon Anoumou Todzro, now member of URGENCI's International Committee and founder of the Centre de Formation Agricole et des Productions Ecologiques du Togo (CFAPE-Togo) has represented the organisation at several West African meeting. These include Accra (Ghana) from 26-29 January 2016 at the civil society consultation organised by IPC (the International Planning Committee for Food Sovereignty) with the FAO. From 31st March – 3rd April, Simon was in Abidjan (Côte d'Ivoire) for a meeting of African Civil society to prepare for the FAO African Regional Conference that took place 4th-8th April. On 17th April, in Lomé Simon took part in a meeting with Bread for the World, aimed at network building in Africa. And 21st-22nd April he was back in Ghana to run a workshop on developing CSA with the NGO, ECASARD.
Simon has also organised several meetings aimed at presenting the CSA system and its feasibility with peasants in Burkina Faso and Mali that were held in Lomé. This has been a very active period for Simon in his promotion of URGENCI and his work to promote the West African CSA network. He firmly believes that CSAs are developing well in West Africa, but that the key to greater success also lies in the ability to raise greater funding for CSA and Agroecology.