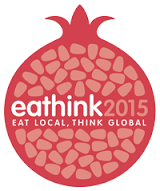 "EAThink2015 – eat local, think global" is a project for primary and secondary schools of 12 European and 2 African countries funded by the European Union with the objective of enhancing European students' and teachers' critical understanding and active engagement in global development challenges, with a specific focus on food security and sovereignty, sustainable food systems and smallholder farming. Several activities will be implemented during the three years (2015 -2017) of the EAThink2015 project, in order to prepare European students and teachers to face their responsibilities as citizens of a globalized society.
As far as Urgenci is concerned, this project allows us to enhance and empower all educational experiences concerning local food systems. It is a great opportunity to communicate on our subject of interest and to present a complete inventory of the educational supports and initiatives existing in the field of education to local food systems.
The outcomes of the project include :
A website on global education issues providing information, tools and best practices for students, teachers and other stakeholders and a geo-referencing tool to be used for sending information and referrals on agriculture and food (e.g. farmers' markets, local exchange community, farms, shops, fairs, etc.).
An international photographic competition, organised in the countries involved in the project for the best photo-reportage on food. The winning photo-reportage of each country will be displayed at the Food Cloud Exhibition.
An exhibition on food (Food Cloud Exhibition)  on display at  EXPO 2015, open all day during the months of May, June, September and October 2015 for young people, students, classes and other visitors.
The set-up of a Multimedia Center during the EXPO 2015, with an editorial staff of young people who will be documenting the event on social media.
The continuous support of Primary and secondary school teachers of all countries involved through an educational tutoring to design learning modules (lesson plans) for their classes on Global Learning, in particular on food production and consumption, alternative food systems and the right to food. Almost 130 free global learning modules are published on the website of the project for teachers and global education trainers.
A multimedia app, containing a fairy tale for children on the origin and seasonality of food and recipes and a multiple-choice game on ecological footprint.
A kit for teachers, global education trainers and volunteers engaged in educational activities on global learning and sustainable agriculture.
An international video competition, organised for schools involved in the project. The video-clips developed for the competition will be evaluated at the national and international level. The winning video in each country will be produced professionally and screened on off- and on-line media to spread the message of the project among the general public and sensitize them with regard to their consuming habits.
Trainings of  students on food systems' interdependence, who will then be mobilised to realise initiatives (events, campaigns, school gardens, visits on smallholder farms, etc.) at community level to sensitize the general public other students, parents and community members with the aim to promote behavioural changes in their food lifestyles.
Introduction to global citizenship and alternative food systems with interactive and participative workshops for Primary and Secondary students.
National seminars and workshops that will be organised in order to present and disseminate the main outcomes of the action.
International exchange visits and workshops for delegations of teachers and students, heldin Italy, Austria, Senegal and Burkina Faso.
ITT Varalli of Milan, a secondary tourism school (www.ittvaralli.it), will develop a guided route on sustainable agriculture for teenagers and European classes in Milan during Expo2015.
As a Global Citizenship Education Ambassador, Fondazione CARIPLO connects the project and its network to key institutional stakeholders at EU level (Foundations, Local Authorities, CSOs) that have a potential in supporting the initiative at all levels.
The first kick-off meeting was held at the end at the beginning of February 2015 in Milan, Italy.
> In France, the project is implemented specifically in the Basse-Normandie Region.
If you are an URGENCI's partner :
We would like you to get involved in the project by means of two different actions :
–     If you have any, could you please share educational material (about local food systems, CSAs, etc.) you have already used, experimented or seen ? These materials must be designed for children from 6 to 18. By sharing your documents, you will contribute to the project in a fantastic way. We would like to upload all documents on our website so that everyone (teachers, facilitators, students, citizens) will be able to download them and use them as they see fit. During the last semester of the project, we are also planning to publish a « Tool kit » bringing together the most relevant materials, this kit will used by teachers, global education trainers and volunteers engaged in educational activities on global learning and sustainable agriculture.
Moreover, we would like to know if you could possibly be interested in getting in touch with our colleagues working on the project at your national level ? We are working with 13 leading partners (ACRA, Fondazione Cariplo and CISV in Italy, APSD-Agenda 21 in Romania, Anthropolis in Hungary, CARDET in Cyprus, Euskal Fondoa in Spain, Calouste Gulbenkian Foundation in Portugal, Institute for Sustainable Development in Slovenia, Kopin in Malta, Polish Green Network in Poland, Südwind Agentur in Austria, Zmergo in Croatia. We are also working with teachers from Burkina Faso and Senegal). If you are interested, please let us know, you could be involved in the project at a local scale, by working with our partners (presentation, intervention, visits ?).
For more information about the EAThink2015 project, please visit our website (http://eathink2015.org/en) and do not hesitate to contact Sarah Brosset (educational tutor : eathink.urgenci(at)gmail.com)