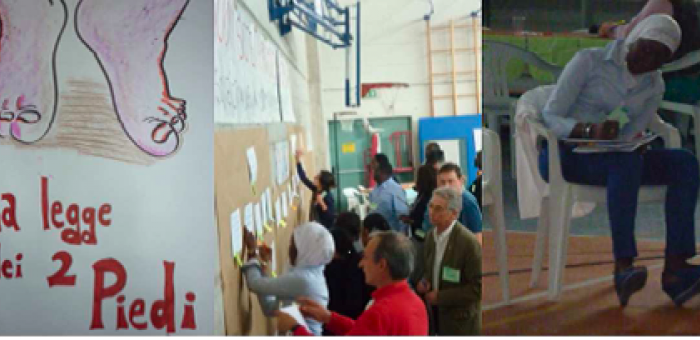 Since January 2013, Urgenci has been part of a project called "Hungry for Rights: Global Learning from Local Solutions in Alternative Food Systems".
This project is motivated by the analysis that an evolution from industrial forms of food production to shorter supply chains and more local food will require not only producers to modify their production model but also consumers and local authorities to change their habits and policies. Although consumers are often a driving force behind the local development of short food supply chains, local authorities should indeed play a key role in the promotion of local food through public procurement.
Therefore, the project brings together representatives from these different groups. The inclusive approach has been designed to guarantee a thorough diagnosis of challenges and bottlenecks, and to help identify specific needs for skills development and capacity building.
There are 3 prominent results expected:
A shared basis of knowledge and competences of the target groups on global and local food governance issues on selected local territories in each involved country;
catalysts, selected from the target groups, are trainedto facilitate local learning processes;
Creation of local food councils in Italy, France, Cyprus, UK and Lithuania with the participation of the involved stakeholders.
The first kick off meeting was held at the end of March in Milan, Italy.
In France, the project is implemented specifically in Creil area, in the southern part of the Picardie region. The first meetings on this territory were organized at the beginning of June.
More information on the project: www.hungryforrights.org.