By Judith Hitchman, President of the International Committee of URGENCI
A new year, a new decade, and many new challenges at global and local level. Since it was first created, in 2004, Urgenci has come a long, long way. From a visionary idea, we have become a global social movement of several million people in our member networks. We work deeply at implementing Local Solidarity Partnerships between producers and consumers at grassroots level. We produce training and advocacy support documents as well as trying to address all the key issues of producer sustainability while ensuring the right to food and nutrition for all. We are a recognised part of the global social movement dynamic, with a strong commitment to agroecology and the three pillars of technical, scientific and social aspects. We are deeply engaged in policy building at all levels.
The key challenge we all face today is how to reconcile sustainable food systems and nutrition, mitigating the climate crisis through localising our food systems and ensuring a low carbon farm to fork and deck to dish approach.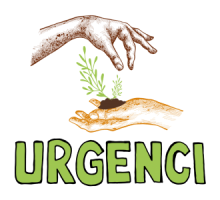 We feel that collectively, this new era requires fresh energies and ever-greater cooperation between producers and consumers. And a new look. In 2019 we held a competition to collectively choose a new logo that represents all of this. Obviously this was a very complex task, as our producers represent all sorts of food production, from vegetables to fruit, dairy, meat, cheese and more recently also fish. We finally opted for the beautiful and highly symbolic design submitted by Kristina Ianatchkova and the font drawn by Alexandra Gribble. We hope you like it as much as we do!
As an Irishwoman, many of my personal references are linked to ancient Celtic and Druidic traditions. And this weekend is the first of the Celtic Spring is a time for sowing new seeds and for renewal. This is why we have chosen this highly symbolic date for launching our new logo.

We hope that the logo will inspire us towards ever greater co-operation and collective growth.