By Joel Orchard and Sally Ruljancich
Food is the great connector. Communities that have the resources to feed themselves are more resilient, healthier, and foster better relationships to each other and to the land. Food is one of our human commonalities, an easily shared delight, and a necessity in our day.
Culturally appropriate nourishment is what we must strive for.  We need a food system that does not seek to exploit soil health, worker and farmer rights, the wider environment or the ability to access healthy food.
As eaters and farmers across our region realise the benefits of agroecologies, eating nutritious food, localisation, solidarity economies and  food justice the alternative food systems continues to gain in momentum and in importance.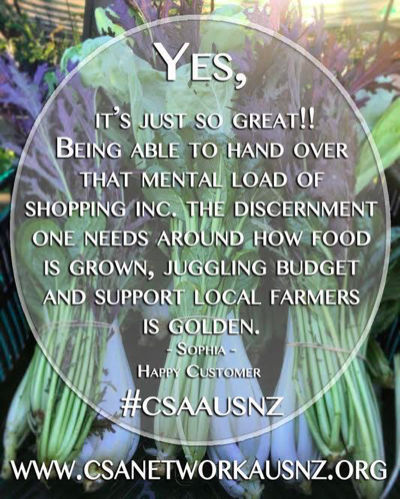 Against this backdrop, another international CSA network has evolved in the South Pacific to serve and develop a growing food movement. The Community Supported Agriculture Network Australia and New Zealand (CSAAUSNZ) is an advocacy group dedicated to highlighting, growing and supporting CSAs in Australia and New Zealand.
Born out of a Facebook group and then a website and directory, CSAAUSNZ was established in March 2018 as a need was identified for an organisation to provide a focus for the development of Community Supported Agriculture in the region. With the many wonderful farmers out there championing CSA in their respective regions we can imagine a strength and vitality that can achieve by working together.
The CSAAUSNZ  goals are as follows:
To create and maintain a Directory of Australian and New Zealand CSAs

Link in already established resources for emerging and existing CSAs and to create resources to share

Act as a presence in the media, highlighting the value of CSAs for both farmers and eaters. To be a 'voice' for CSAs in our region

Work towards presenting workshops around the country to introduce CSAs to farming communities and cities

Participate in international discussions via the International Planning Committee for Food Sovereignty (IPC)

See the establishment of Participatory Guarantee System (PGS) to run alongside CSAs.
What have we achieved so far?
To date, we have added 30 farms from Australia and New Zealand onto the Directory. Many farmers have since reported an increase in enquiries for CSA shares in their farm, with our mapping on the website working well and clearly being utilised by the general public, eaters and farmers alike.
The network aims to facilitate a space for farmers and eaters to share and explore complimentary direct distribution models to align and identify with Community Supported Agriculture and to seek solidarity in experiences. There is much going on in the background, as we connect farmers in their respective areas,  forge important links and the sharing of knowledge. We are also able to help eaters get in touch with farmers for that important connection to food, its supply, and the true cost that should accompany it.
The network has had excellent media coverage in its first few months, with a feature article in The Australian Newspaper, a widely-disseminated radio story on ABC National Radio, an article in Victoria's CWA News and a great many social media posts discussing CSAs and what the Network can achieve into the future.   
What do we have in the pipeline?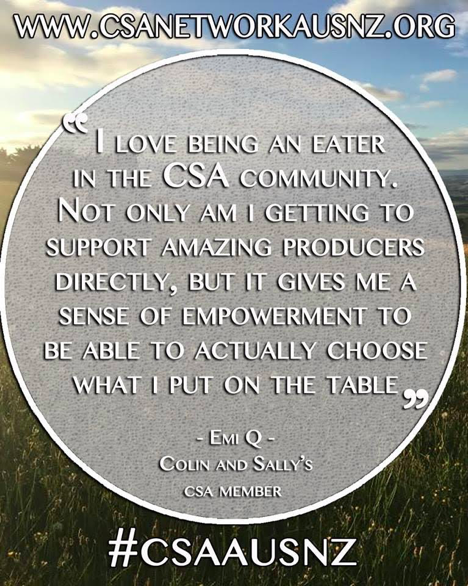 The CSAAUZNZ are working on several project partnerships and collaborations with alternative food systems groups to deliver a range of publicly accessible documents.  We hope these resources and toolkits for CSA farmers will improve our scope and capacity to promote CSA farms and the exposure of the CSA movement.
We are supporting a PhD candidate at Australian National University  who is starting her thesis on Community Supported Agriculture and will be developing a survey to help chart CSAs in our region.  These discussions and case studies of farmers and eaters will help to understand the lived experience, the barriers and enablers to participating in CSA.
The CSAAUSNZ is humbled to be new members of Urgenci – the International Network of Community Supported Agriculture and appreciative of the support which we have received from the committee and in particular, the president Judith Hitchman.
Joel Orchard will be representing the CSAAUSNZ Network and  travelling to the 7th Urgenci International Symposium and the 4th European meeting of Community Supported Agriculture Movements and other Local and Solidarity-based Partnerships for Agroecology in November 2018 in Thessaloniki, Greece.  Joel will, of course, be sharing the knowledge he gains on the trip with us all.
Joel Orchard and CSA farmer, Sally Ruljancich, will be sharing the the panel for "Rethinking Food Systems" in the New Economy Network Australia (NENA) Conference in North Queensland. Here they will be speaking about how CSA creates a connection between farmer and eater which can largely sit outside the dominant food systems pathways, the ideas of a solidarity economy and how the CSA model shares the risks and rewards of farming and distribution.  They will also be following this discussion through the NENA webinar series and then again at the NENA National Conference in Melbourne, October 2018.
Sally Ruljancich represented CSAAUSNZ in June 2018 at the Victorian Government's artisan agriculture and premium food forum, speaking about CSAs and other selling direct models and will be also be sharing a panel with Eric Holt Gimenez (Food First) on his Australian Tour and speaking series.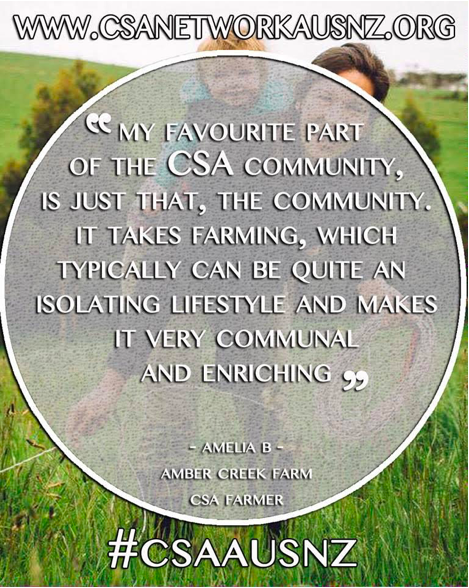 How to get involved : Find us online
Join our Facebook discussion group: www.facebook.com/groups/CSAAUSNZ
We encourage you, as eaters and farmers, to join the conversation. There is a wealth of knowledge between us all and we can pool these questions and answers over time into resources.
Keep using the hashtag #csaausnz  We regularly check this hashtag in our social media channels, so let us know what you're up to and we can share it more widely.
If you're a CSA farmer or eater, perhaps you'd like to be featured in our Farmer Profile or Eater Profile on the website or perhaps you've written a blog featuring CSAs? Get in touch! Examples are here: http://www.csanetworkausnz.org/farm-profiles
Call for Content and Volunteers
Want to put your hand up to speak on CSAs at an event on behalf of the Network? We'd love to hear from you.
Remember, we are a volunteer-run advocacy group, charging no membership fees, in order to make what we do accessible to all.
To quote a passage from Eric Holt-Gimenez, in his A Foodie's Guide to Capitalism..
"Why is it important to understand value in our food supply?
Because the production, appropriation, and accumulation of value determines the system itself. Unless we change the underlying value relations of our food system – the contradiction between food as essential for human life and food as commodity – we will be working on the margins of a system that is structurally designed for profit rather than need, speculation rather than equity, and extraction rather than resilience. This doesn't mean that the many social innovations challenging the inequities and externalities of the corporate food regime around the world are not worth implementing. On the contrary, our food system needs innovation. But for these hopeful alternatives to have a chance of becoming the norm rather than the alternative within a food system that is structurally favourable to large-scale industrial agriculture, we will need to know what structural parts of the system need changing."
The CSAAUSNZ is looking forward to contributing to discussions on agroecology and solidarity economies both in support of Urgenci and the global food sovereignty movements and at a more local level.
Website and social media:
CSA Network Australia New Zealand (CSAAUSNZ)
www.facebook.com/CSANetworkAusNZ
www.facebook.com/groups/CSANetworkAusNZ