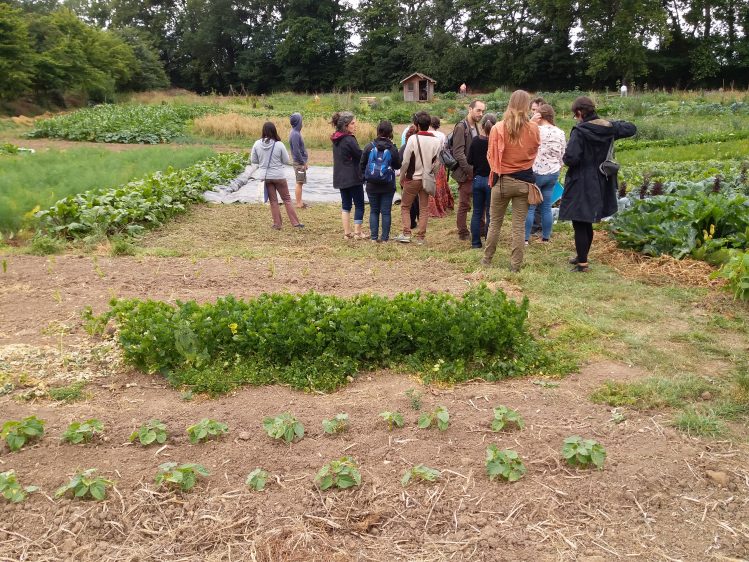 Next Urgenci International Symposium and European Meeting in 2018 in Greece
Call for the 7th Urgenci International Symposium and the 4th European meeting of Community Supported Agriculture Movements and other Local and Solidarity-based Partnerships for Agroecology, November 2018 in Thessaloniki, Greece.
We are local small-scale peasant farmers and eaters engaged in Community Supported Agriculture (CSA), a direct partnership where the risks, responsibilities and rewards of farming are shared. CSA is part of our daily experience of creating a genuine alternative to the current economic system, where the decision-making power of food production and distribution is increasingly concentrated in the hands of a few financial investors. But we believe even more is at stake.
We believe CSA is a prefiguration of the new social contract between food producers and the communities they are feeding. The European Declaration of CSA, adopted at the last European meeting in September 2016 is a decisive step forward in sharing our proposals. It is a roadmap.
WHAT WE HAVE DONE
We have been following the path laid out in the Declaration with great determination by:
 • Enabling sharing of knowledge and skills between CSAs in different countries; 
• Conducting and promoting participatory research on our farms and in our networks;
• Empowering and educating people to act for and develop the movement : 
• Showing the benefits of CSA for the whole of society; 
• Advocating for CSA communities at international, European and local level to implement our principles;
• Engaging in local food governance; 
• Working together with the food sovereignty movement and strengthening our alliance with social and solidarity economy movements ».
The European CSA movement has come a long way, but much work still remains to be done. Where do we stand when we look at our initial promises? Saving farms, fostering local economies and jobs that cannot be relocated, healing social and environmental wounds, repairing the broken links between different communities, rebuilding social cohesion: what are our achievements? What are our remaining and new key challenges?
We call upon representatives of all Community Supported Agriculture initiatives, regional and national networks and other related movements around the world to bring their own experience, to share challenges and solutions.
GREECE: THE BEST LOCATION TO HOLD OUR "SOLIDARITY CHECK"
This meeting is scheduled to take place 9-11 November 2018 in Thessaloniki. Greece is one of the best locations to hold our "solidarity check". The population has been living through a major social and economic breakdown for almost a decade, and they have also been on the frontline in welcoming the biggest flow of war refugees and migrants since World War II. Where does the power of CSA lie in disintegrating societies, and how can we build ever-greater mobilisation to realize the right to food and nutrition? What is the role of peasant agroecology in building local solidarity partnerships between producers and consumers?
Another reason for this choice is that Greece is at the crossroads between different dynamics. Take a look at the CSA tectonics. Greek CSA activists are fully part of the European movement: they participated in the 2015 census and are now contributing to a new European training programme for CSA farms and groups.
But Greek CSAs are also part of the Mediterranean network of Local and Solidarity -based Partnerships for Agroecology (LSPA). The Greek network is now building a common training framework for the whole region, based on Urgenci's mapping activities and Learning Journeys. The meeting in Thessaloniki will therefore also host the second gathering of Mediterranean LSPAs and CSA, with our many partners from all Mediterranean shores.
Greece is also at the crossroads of different movements: it is home to a strong Food Sovereignty platform and recently hosted a pan-European Solidarity Economy summit (Universse, organized in Greece in June 2017). Last but not least, Thessaloniki is an interesting place from a local food governance perspective, with lessons to be learnt from the local municipality. This dimension makes it the perfect place for raising the issue of advocacy, both at local and international levels.
Within Urgenci, the decision was taken to build on the European meeting in order to host the 7th International Symposium. This means Urgenci's International Symposium returns to Europe, ten years after it was last held there! European hosts, international guests, and a lot of intercontinental exchanges in perspective!
In order to launch the impetus for our collective work, we wish to open our circle and invite CSA networks, supporting NGOs to join the Steering Committee.
JOIN THE PREPARATORY TEAMS
If you or your organisation would like to support the preparatory process, please contact the Steering Committee by sending an email to: contact@urgenci.net
Farmers' participation will be encouraged, and specific farmer-to-farmer talks will be organised.
 The meeting will be built on an improved co-constructive methodology inspired by previous meetings.
 A voluntary contribution, that will cover the cost of the meals and logistical expenses, will be requested from all participants.
 If you would like to join but are financially challenged, please mention this when registering. A small solidarity fund will be available to make this event as accessible as possible for most people.
 For those unable to attend, we will welcome your update on your country activities and proposals for the EU CSA movement via email, so we can make your voice heard!