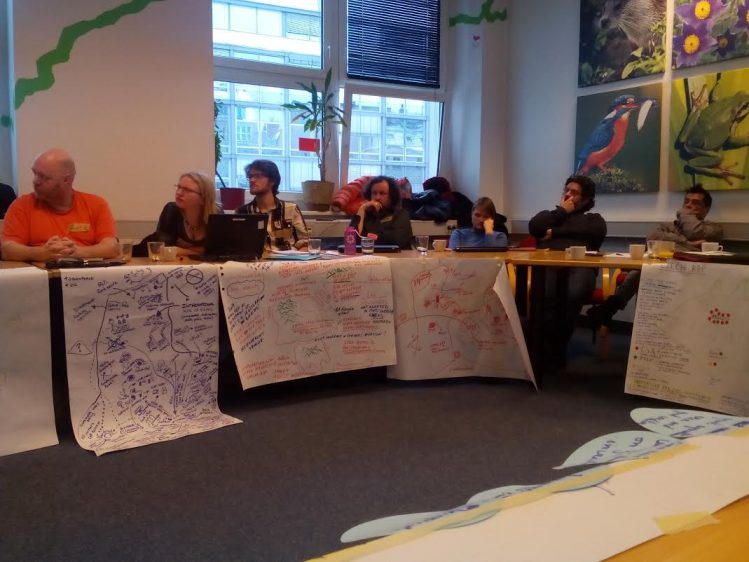 "Towards a stronger and broader food and farming movement in Europe"
Urgenci at the Friends of the earth meeting in Berlin: "Towards a stronger and broader food and farming movement in Europe" (Jan 2016)
By Zsofi and Peter
In January 2016, two Urgenci representatives attended the Friends of the Earth meeting in Berlin to connect with stakeholders from the food and farming movement from all over Europe. The meeting was set around the "Wir haben es satt!" demonstration that takes place every year in Berlin and attracts more than 25.000 people aiming at changing the industrial corporative food system. The meeting gave for about 30 participants from all over Europe the opportunity to learn about the various national food networks as well as European and International movements like European Coordination Via Campesina, the Nyéléni process and of course the work of Urgenci. In this context it became clear that the upcoming European Nyéléni meeting in Cluj in October 2016 could be a potentially strong fixing point for cooperation towards food sovereignty.
The meeting and the program gave sufficient formal and informal time to (re-) connect, learn and to come up with common ideas like the Swedish initiative to start a caravan from Sweden through various countries to the Nyéléni meeting in Cluj. Check the planned route!
The emergence of a European CSA movement was an issue that appeared at several points, nonetheless it was beneficial to have Urgenci represented as some country delegates have not been in contact before with us and there is interest to join e.g. at the 3rd European CSA meeting in Ostrava (Sept 2016).
The meeting resulted in narrowing down the important points where the European food and farming movement needs to improve to make this movement stronger. As Peter pointed out, the huge generational transformation in European agriculture with 3,5 million farmers retiring in the next 10 years does make it an urgent issue to offer alternatives to an industrial food system. This can only be provided by a strong citizen driven food and farming movement creating their own diversity of local, ecological and social food systems as well as pushing for policy changes. Furthermore, coordination and alliances within the food network, communication, pressure creation and research was identified as key topics for future cooperation.
After several small group discussions all of the participants made a pledge based on the topics we reached during the three days. The experience sharing resulted in many interesting action (e.g. summer camp, demonstration, trainings) and it seems that all of us will meet at the Nyeleni meeting in October.
Zsofi Perenyi, Association of Conscious Consumers (Hungary), Kernel& Coordinator of education and training at URGENCI IC.
Peter Volz, involved in the coordination of the Urgenci European CSA research group.