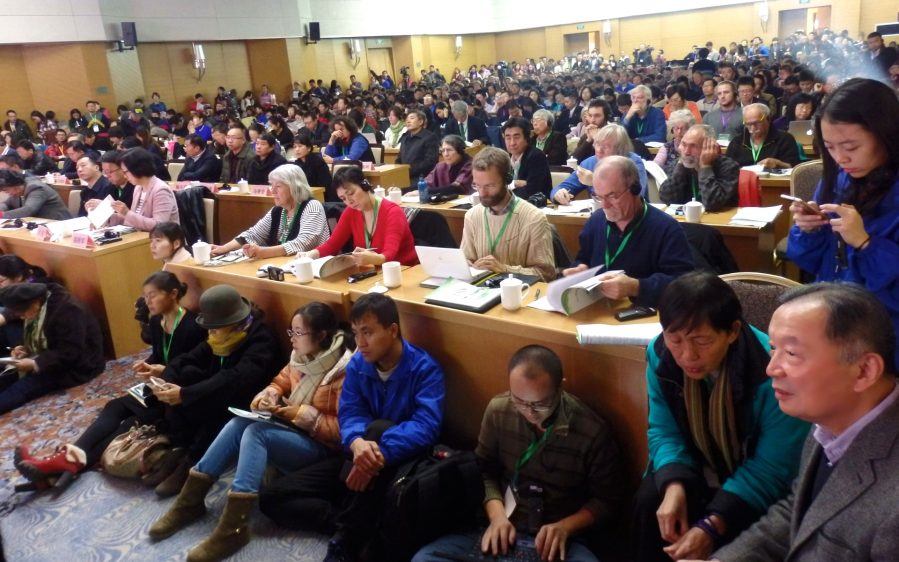 6th ICSAC in Beijing – First impressions
As the General Secretary of Urgenci, I want to send you all a huge thank you for your participation in the 6th International Symposium on Community Supported Agriculture. Thanks for your open-minded, hard-working, spirit. This event was a perfect reflection of our movement: thanks to your dedication, we represented a patchwork of initiatives, yet everyone could identify with the astonishing feeling of familiarity: we all face similar challenges, we all share the same concerns. Thanks for your curiosity and your critical approach: we shared well-informed, high quality knowledge on our actions. We discussed controversial issues. We didn't hide behind CSA propaganda but had lively talks from different perspectives.
I think part of the success of this event was also due to the diversity of the international speakers' input. We had 66 foreign guests, from 28 different countries.
Farmers were well represented, making up one third of foreign participants (22). This is far higher than in previous Urgenci conferences, and represents the commitment to the farmer-consumer dynamic from both sides.
After the General Assembly held on Sunday 22 November, Urgenci is even more international than ever: 36 different countries are represented in our membership.
NEW INTERNATIONAL COMMITTEE
The newly elected International Committee is of course a reflection of this diversity.
Honorary President: Elizabeth Henderson (Farmer, USA)
>> International Committee:
President: Judith Hitchman (France/Ireland), the first woman president in our history!
Vice President: Shi Yan (Farmer, China)
Secretary: Kiera Mulvey (USA)
Treasurer: Denis Carel (Farmer, France)
Andrea Calori (Italy)
Narumi Yoshikawa (Japan)
Simon Todzro (Farmer, Togo)
Josefina Cendejas (Mexico)
>> Special Envoys:
Education and training: Zsofia Perenyi (Hungary)
Advocacy: Isabel Alvarez (Basque country)
OUTGOING IC MEMBERS
I'd like to thank the outgoing IC members, who chose to step down.
Shinji Hashimoto, a small scale vegetable grower form the Hyogo prefecture, Japan, has been involved in the CSA Movement since 2004 and participated to the creation of Urgenci almost 10 years ago. With his colorful and entertaining accounts, he has been the incarnation of the CSA spirit on all five continents. He will of course continue as one of the leaders for the Japanese Teikei movement and Urgenci-Asia.
First elected to the IC in 2010, Joy Daniel, a distinguished peacelover from the Aurangabad province, India, and a pioneer of Participatory Guarantee System within the IFOAM, has been an outstanding bridge builder for the CSA movement, connecting to the organic movement and various regions that had been left out of reach. His work will now focus on Urgenci-Asia, as well as the next Organic World Congress, in 2017 in India.
A veterinarian and a family farmer, Oumar Diabaté, has been a member of the IC since 2008, has been representing Western Africa within Urgenci. He was the Vice-President of the network in 2010-2013. He is now willing to hand over the responsibility to Simon Todzro from Togo, in order to focus on building the Urgenci-West African network that was born earlier this year in Mali at the global Meeting on agroecology, attended by 8 Urgenci members.
Jérôme Dehondt, a former marine officer and Amap consumer, set up as a farmer 4 years ago. He has been an IC member for 5 years ; he is now willing to focus on the connection to the French Amap movement, and to commit himself to a "Resources for CSA farmers" -programme within Urgenci.
TOP PRIORITY: REPORTING FROM OUR MEETING
We all know that a success of such a meeting cannot be measured right after its closing. We will discover how successful this 6th International CSA Conference was in a couple of weeks or even months.
Let's be optimistic and believe that interactions between conference participants will have been multiplied, and that our Common Pledge will have been largely widespread in all our networks!
To make our conference a success, another series of collective efforts is needed. Our top priority is now to give an account of our shared work to all those who were not able to join the meeting.
I cannot close this message without giving another, well-deserved thanks to the 100 Chinese and non-Chinese volunteers who have made this conference possible, including Caroline and other Chinese-speaking comrades. I want also to restate a huge thanks to Kirk for handling this enormous event and the integration of dozens of international guests in such a quiet, elegant and efficient way.
Of course, the biggest xièxiè is for Shi Yan, for her determination to bring this wonderful event to China and make it the most successful symposium of Urgenci history."
Jocelyn Parot, November 26.
We hope to display soon the outputs of the conference online, but in the meantime, here is the full programme of the conference and of course, you can start reading some press articles:
Meet the woman leading China's new organic farming army, written by Katrina Yu (Aljazeera, 2015/11/25)
Community-supported agriculture would help China reduce agricultural pollution, written by Xu Wei (chinadaily, 2015/11/20)
Chinese farmers create new temptations for urban citizens, written by Jan Douwe van der Ploeg (blog Farming Matters, November 2015.)