Ellinor Lindahl and Lina Hirsch on meeting in Hungary
Ellinor Lindahl and Lina Hirsch from farming cooperative Concrete Farming had the chance to travel to Hungary to take part in the CSA (community supported agriculture) workshop and study visit on. Here they tell us about their trip:
At the end of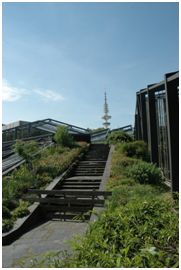 May, we had the pleasure to be two of the four participants who represented Malmö at a conference with workshops and study visits in and around Budapest, Hungary. This was part of a joint project (Grundtvig) between Poland, Czech Republic, Croatia, Italy, Germany, Hungary and Sweden. We started our trip across the channel and the ride then went on by train through much of Europe. Great to go eco-friendly and enjoy the view, moreover, we had time for a visit to Berlin's Botanical Garden on the way down!
Over the weekend we got to learn more about the initiative in Budapest relating to CSA (Community Supported Agriculture) participate in the discussion workshops and visit the growers. The initiatives we got to visit were:
–       A fair trade shop, Zoldbolt (www.zoldbolt.hu)
–       Vegetable boxes for home delivery (www.nekedterem.hu).
The evening ended with a visit and dinner at Szatyrbolt, the first consumer group in Hungary.
On Saturday we went to an island in the middle of the Danube to visit two different farms. In the first courtyard, Szigetmonostor Biokert, we participated in a family day, where we were shown around the farm, helped in the fields, and then had lunch. The farm was run by a newly qualified farmer who moved from cultivating a few vegetable varieties on a large scale to creating a system of subscription of vegetable boxes where subscribers come to the farm, subscribe and receive updates about their boxes. The boxes are transported to a collection point near the members, such as a car park where the grower is available to answer questions.
The next farm, Haromkaptar Biokert, was an expanded market garden driven by a biologist and her daughter. Their followers had fallen in love with the boxes that were specifically for children, baby's first food, and then demand had increased, but of course there were many types of boxes.
Just when we got into the greenhouse to look at the sweet peppers, we saw how a storm was approaching and soon hailstones, 1 cm in diameter were raining down from the sky onto the young tomato plants.
Our hostess, Dianne, prayed to the heavens could not hold the tears. After a while, we saw that everything was not completely devastated. Soon we were all out and picking over sugar snap peas, tray after tray.
These two farms are part of the system known as CSA-Community Supported Agriculture. These are farms where growers and consumers share the benefits and risks of growing and communicate the vegetables and products that they produce. It is a way for consumers to learn more about where the food is coming from and to support local producers. The first farmer we met made sure to ask for help during last summer's floods, and perhaps Dianne wrote this in her newsletter to CSA members, the tomato harvest may not be as usual this year, now after the hail storm. But at the same time there are good tidings, like strawberries will soon be ready. This gives, of course, more insight and above all may result in an increased and updated understanding of what happens on the field where vegetables and fruit come from.
To travel by train meant nice trips while on our way home. Before our train departed from Budapest we had time to visit a local farm Leonard, which unfortunately was closed. The garden was fenced in with barb wire and no growers with keys were in place.
A few meters from there we came across a new community garden which was very active. The growers we met told us that the new communal farm was started by people who live in the neighborhood and who had received permission from a property developer to grow on the ground while waiting for the start of construction. The inauguration would take place a week later and they were in full swing to prepare the growing beds and to build furniture for the site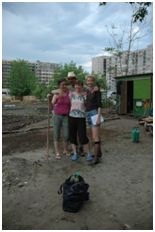 After a fruitful and intense visit to a 35-degree Budapest we took the train home full of inspiration from the initiatives we encountered, the conversations we had over the weekend with participants from all over Europe: growers and members of CSA cooperatives. In Europe, CSA has come a long way and we look forward to being involved and driving development forward even in Sweden!
Summer greetings!
/Ellinor Lindahl and Lina Hirsch, Concrete farming
Link to Swedish blog entry: http://gronsakslandetmalmo.se/category/concrete-farming/