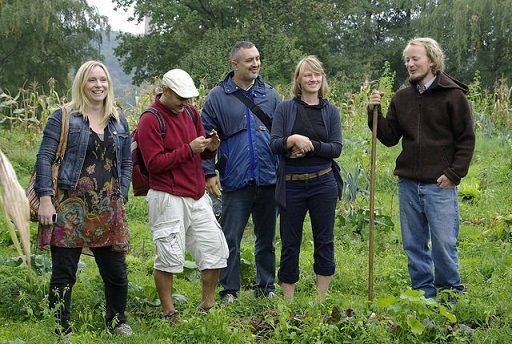 Report on the LeTSFS workshop held in Berlin, Germany
From Thursday 18th to Sunday 22nd September 2014 a total of 26 people from the 7 LeTSFS partner countries gathered in Berlin to visit local food production and distribution projects and to discuss the various issues arising from these and other experiences of such projects.
Germany is home to the oldest such scheme in Europe, centred on the Buschberghof near Hamburg, which has been operating as a CSA since the late 1980s. Since the financial and economic crisis of 2008/2009, the number and range of local solidarity-based food production and distribution schemes (SoLawis) in Germany has increased rapidly and seems set to continue, supported by a network organisation and, crucially, a shared website: www.solidarische-landwirtschaft.de. This wealth of experience is what the German contributors to the LeTSFS project were keen to share, in addition to learning from our partners in other countries how their experiences of solidarity-based food production and distribution might shed new light and new perspectives on German approaches.
Our initial gathering point on Thursday was an educational children's farm – a place for city youngsters to experience animals close-up – where we were able to use a room with cooking facilities to arrive, do some introductions and create out of the ingredients prepared by the Berlin-based workshop team a delicious seasonal meal (involving lots of mushrooms) to enjoy together as we began to get to know one another.
At the end of the evening, the participants were allocated to their different accommodations: people from local "SoLawi" (solidarity-based farming) projects had been asked if they could provide overnight accommodation for the participants, as this was seen as an additional way of encouraging contacts and encounters among ordinary activists involved in solidarity-based food production and distribution across Europe.
After breakfasting together at a Turkish café on Friday morning, we drove in three vans to our first destination, the CSA farm Speisegut (which translates roughly as both "food farm" and "eat well"), a relatively new CSA farm located on the outskirts of Berlin. The people who run this farm produce regional and seasonal vegetables and fruit. They also grow oil seeds from which they press their own oils. In addition to running the CSA, they offer an "adopt a hive" scheme, which offers a variety of financing models to invest in bees.
Just next-door to Speisegut is another highly innovative food growing project called the Bauerngarten, or farmer's garden. Its initiator is a young grower who has shaped his growing areas into pizza circles, divided up into slices. Berliners can financially support (i.e. rent, so to speak) one slice of the pizza, on which a wide variety of vegetables and herbs are grown. The grower plants and cultivates the field, and the person whose monthly payment finances their slice receives the produce harvested there – in theory enough to feed one person with healthy vegetables and herbs throughout the year.
Leaving rainy Berlin in our vans, we drove out further beyond the city boundaries to the vegetable growing farm Luchgärtnerei. Here we enjoyed a delicious lunch that had been prepared by the growers using their own farm produce. This is an organic farm that switched to the German CSA method in 2012. The couple who run it have 7 distribution points in Berlin where people who live nearby who pay a monthly sum to the Luchgärtnerei pick up their vegetables. The growers produce and cultivate all their own seeds and use only plants they have propagated themselves. We worked off our lunch by participating in a few tasks around the farm such as digging up potatoes and picking ripe apples and pears from the trees.
Climbing back into the sauna-like vans (the weather had now turned extremely warm) we drove on to visit the farm Waldgarten (forest garden). The grower who runs this farm decided in 2012 to add the CSA model to his distribution channels: in addition to selling his farm produce at a local market, he now also supplies two groups of consumers in Berlin. One special aspect of this farm is the grower's experiments with permaculture and agro-forestry. The difference between the grower's plot covered with trees, shrubs and vegetables and the neighbouring field of maize planted as a monoculture could not have been more striking!
Waldgarten is part of the seed bank network VERN, which cultivates and saves old strains of seeds and plants in collaboration with many partner farms in the state of Brandenburg.
A further planned visit to a CSA garden which involves working with people with mental and physical impairments had to be cancelled because we had overrun our time schedule. Once back in Berlin, some people returned to their accommodation straight away for a night's rest and others decided to finish their day with some socialising at the community project Klunkerkranich, a community garden and restaurant on the roof of a city car park, offering a rooftop view over Berlin by night.
Saturday was devoted to a conference held at a local church community centre, the Martha community. Local people had been invited to join us for this conference, which a few did during the morning session. This morning session included a brief presentation of the German CSA network, short presentations by each of the country participants – demonstrating the impressive range of issues, methods and aims pursued in their various work / activism contexts – and a presentation of one of the most well-known CSA projects in Germany, the Garden Coop in southwest Germany.
The afternoon session of the conference was given over to small group work, in which the Grundtvig participants shared ideas and views about a variety of aspects of CSA, ranging from the practicalities of establishing a food growing and distribution system "from the ground up" to the opportunities such activities offer in terms of making "consumers" into "consumactants" or breaking down social barriers by involving people from different backgrounds and of differing abilities in growing and processing food. This session provided an opportunity to share experiences and ideas – and to celebrate the breadth and depth of experiences with local food production and processing in the partner countries.
No food growing-related trip to Berlin would be complete without a visit to the urban community garden Prinzessinnengarten, so this is what we did on Sunday morning. We were welcomed by one of the founders of the garden and were given a potted history of this remarkable initiative, which has been running now for several years on an abandoned piece of land in the Kreuzberg district. It was here that we wrapped up the official part of our Grundtvig gathering, as some participants had to leave us at this point. For those who remained, there was an afternoon walk to the almost equally famous community gardens located at the abandoned Tempelhof airport.
Our three-day schedule was a full one, providing opportunities to find out about various solidarity-based food projects in and around the city of Berlin while also enabling us (while travelling or walking together, as well as in the more formal setting of Saturday's conference) to share our diverse thoughts and experiences with one another. One idea that emerged in terms of keeping this exchange of ideas and experiences alive was to set up CSA twinning partnerships at local level. Contacts have been made, so there is no obstacle to making it happen if and when there is a wish – and the extra energy – to do so! In the meantime, as the gathering made abundantly clear, each of us in our different settings is busy doing the necessary groundwork for local solidarity-based food systems to flourish throughout Europe.
Article by Kathleen Cross, project coordinator for Germany.