This important global meeting was organised by IPC (International Planning Committee for Food Sovereignty), and hosted by the CNOP (Confédération Nationale des Organisations Paysannes) at the Nyéléni training centre in Mali. The main objective was to to come to a joint agreement and understanding of the fundamentals of agroecology through discussion between the many organisations from all over the world. There were over 300 representatives of small-scale food producers and consumers, including peasants, indigenous peoples and communities, including hunter gatherers-, family farmers, rural workers, herders and pastoralists, fisherfolk and urban people.
There was a Urgenci delegation of 5 people from Europe (France, Ireland, and the Wales and UK network), as we had been allocated a generous budget. Urgenci also contributed additional funding to enable three members of the newly created West African Urgenci network to be present (Togo and Burkina Faso). Two other Urgenci/CSA members were in other delegations and joined our meetings (Canada and the Basque country).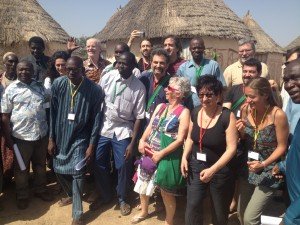 As the meeting was convened just 3 weeks before it happened, it was a considerable feat that it was able to happen. (It had been uncertain fro several reasons: delays in securing funds, political and sanitary reasons…). Yet in spite of some minor organisational issues, the overall structure of the forum was constructive and useful. The majority of the time was spent in work groups, which allowed all the key concerns of each constituency to be included in the drafting of the final declaration.
In terms of our group, we managed to meet almost every evening, exchange on our perceptions and reactions to the various subjects under discussion. It was also very positive to have contact with the 4 members of the new West African network. Various members of our network made presentations in plenary, and all were very active in the work groups. Rupert Dunn, from Wales, also wrote a feature article published on the Sustainable Food Trust website.
Among the various other interesting and positive things was the discovery of Tribally Supported Agriculture in N. America. We shall follow up on the contacts and see if they are interested in joining our network.
We also had an interesting conversation with Maria Noel Salgado of the Maela network (Movimiento Agroecológico de América Latina y el Caribe). As far as Maela are concerned, although they have a box scheme that links some of their producers to consumers, their key focus is agroecology. They may agree that the isolated CSAs we know in Latin America could join Maela, and perhaps we can strengthen and build our relationship over time, particularly on aspects linked to solidarity economy. This conversation needs to continue and be developed.
Read and share the final declaration from this International Forum!