This is the diary from the second day of the Kick-Off Meeting of the Mediterranean Caravan of Agroecology -project, held in Portugal 18-20 October 2021. The visits described here are to Quinta Jasmim and Projeto Criana. By Carlota Ribeiro Sanches, from FCiencias. 
After spending a morning dedicated to the Med Caravan Curriculum which has a special focus on the topics of the trainings to be developed, we were able to have a light lunch in the sun, sitting on the grass of the botanical garden. This afternoon would be different from the rest, a break from computers and boards, and closer to the fields.
We, Caravana AgroEcológica as hosts of the meeting, proposed to spend the afternoon visiting two different agroecological productions within a project we have been developing, called Zer0 Routes. This project was created in partnership with Tagis – Centro de Conservação das Borboletas de Portugal – an Environment NGO that works with biodiversity conservation with a special focus on insects.
The Zer0 Routes were created to raise awareness towards more conscientious consumption by promoting closer relations between producers and consumers, through visits to agroecological productions whose practices favor the regeneration of agricultural ecosystems, preserve biodiversity and mitigate climate change.
These visits are all within a radius of 50 km from the locations where the participants live. It is intended that participants get to know the people responsible for sustainably producing food and their practices. Visitors are asked, during the visit, to make a short film about the productions, the agricultural techniques used and the ways of commercializing and distributing their products, focusing on circular economy and the importance of preserving biodiversity in the agroecosystem. These videos will be used to make one short film per route and a final documentary.
The route planned for this day was in the Torres Vedras area, about 50 kilometers north and an hour from Lisbon. In this region, the agricultural landscape is characterized mostly by vineyards, large orchards and horticultural production. On our way, more than half of the team got lost. We went in three cars; the first arrived without any problems, the other two got lost, walked in the middle of the field, along dusty roads, and greenhouses until they finally reached their destination
On this day, two visits were planned. The first was Quinta Jasmim, an established biodynamic farm with organic certification that produces vegetables and fruits. This farm sells their products directly to customers through a vegbox scheme as well as to organic shops in the Lisbon area. During the visit, we had the opportunity to meet Miguel and learn about this family project focused very much on working with nature, respecting landscape and context, and using its resources to create the necessary balance to control pests and diseases, through crop rotation, biodynamic preparations and most of all the existing biodiversity, his greatest allies. From Miguel we were also able to learn about the difficulties of working with sandy soils and see all the improvements they have been able to make in Quinta Jasmim – photo nº1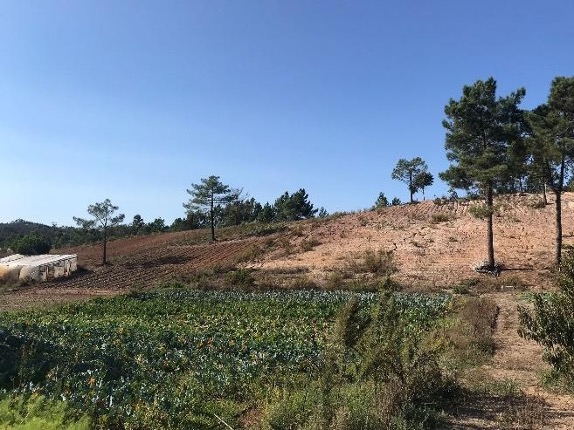 Soil improvements at Quinta Jasmim
A seasonal diet is another important aspect of what lead Miguel and his family hope to promote at Quinta Jasmim, as they believe eating seasonal is the best way to take advantage of flavours and nutrition of fruits and vegetables. Participating in the visit was Paula Rodrigues a civil servant in the Torres Vedras Municipality. She explained the Municipality's strategy to buy local and preferably organic vegetables and fruits to supply all the local school canteens. Quinta Jasmim is one of the organic suppliers working with the Municipality in this program. At the end of the visit, Miguel offered apples, pumpkins, and sweet potatoes – we all ate the apples immediately, because of the heat and thirst. At the end of the visit, we took a group photo with Miguel – photo nº2
The Med Caravan team with Miguel at Quinta Jasmim
After Quinta Jasmim, the route continued to Projecto Criana. Criana is the combination of the names of its creators, Cristophe and Ana, a couple who, for a long time, searched  different ways to apply permaculture and natural building principles and techniques they had learnt in several trainings. When they finally found the land they needed, they started by setting up a tiny house and a vegetable garden, followed by ducks and chickens, a small greenhouse and later native trees to start a small food forest. They have also invested in water retention techniques, mobilizing the slope terrain, according to the level curves – which had an immediate effect on the runoff of rainwater making it possible to retain it – photo nº3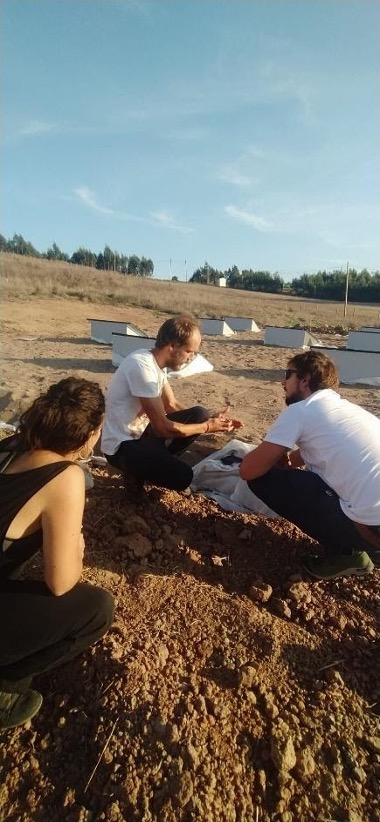 Cristophe explaining the natural building techniques at their house rooftop
In the meantime, they decided to build their own house using clay from their own land and straw bought to local farmers using natural building techniques (photo nº3). Besides being a demonstration site for permaculture and natural building, Projeto Criana aims at supplying vegetables and fruits locally as well as sharing their experience and knowledge through accessible training both to children and adults.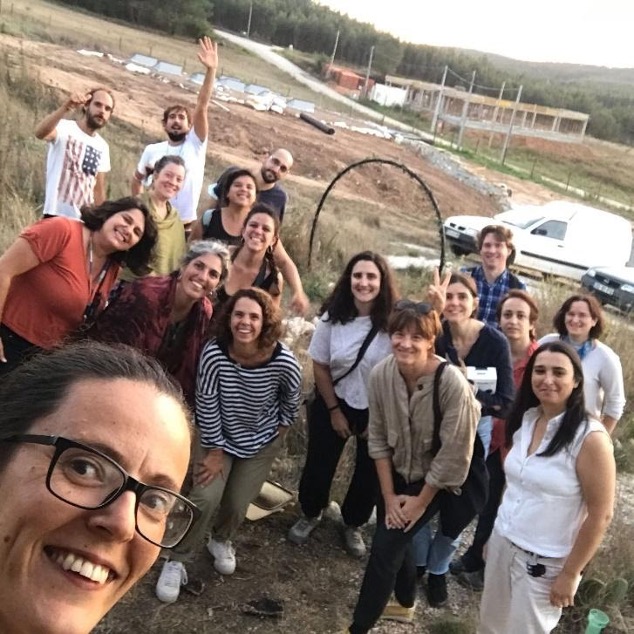 Group Picture with Ana and Cristophe
By participating in these visits, our aim was to show the rest of the Med Caravan team examples of projects that are practicing agroecology by not only regenerating the land and growing food, while preserving the local biodiversity and mitigating climate change, but also promoting proximity agriculture and short food supply chains, while being involved with their communities in raising awareness about the importance of a local seasonal diet.
This is still far from what the agricultural landscape looks like in Portugal. However, it is a growing trend, as more and more we are witnessing the conversion of industrial agricultural production to organic, more involvement of Municipalities in supporting small scale local producers and growing communities of people coming together around sustainable food production. It seems like a very welcoming setting for the Med Caravan.