By Nathalie Markiefka, Urgenci Contact Person for Good Food Good Farming
2018 is the year for change and action! As part of the European days of Action, Urgenci joins forces with organizations across Europe to call out to decision makers to support a sustainable transformation of our food systems. During the month of October awareness rising events will take place across Europe, culminating in the main Action Days on October 27-28th. Various demonstrations and other street actions are planned.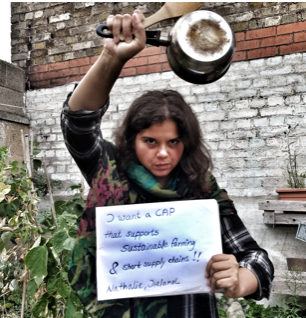 Citizens and farmers are asked to show their support during those events (find the list of all events here). If you would like to organize an event you can contact your country coordinator or register directly via the website. There are also resources like banners, images and an action toolkit to help you get started.
Yet, you can also show your support in different ways. Good Food Good Farming (GFGF) launched a social media campaign which you can join by grabbing a pot, a spoon and a piece of A4 paper where you write down what you demand from the new CAP. Start your message with the phrase "I want / We want", followed by your name and country. Share your pictures on social media, using the hashtag  #goodfoodgoodfarming, tag your national agricultural minister, and help us to show that there are many who demand sustainable changes. 
The photos will be used to create a powerful video with a clear message to policy makers which will be handed over to all EU agricultural ministers meeting in Brussels on November 19th during the meeting of the EU agricultural ministers.  We will invite ministers to join our Disco Soup to cook up together the kind of Good Food Good Farming system we want to see. We will make sure ministers get our demands and ask them to act. 
Another Common Food and Agriculture Policy is possible!
Find more info and register your event here.