By Judith Hitchman, Co-President of the International Committee, with Shi Yan, Co-President of the International Committee, and Jocelyn Parot, General Secretary
Photo courtesy: Sara Meissner
2019 has dawned to a mixed bag of difficult situations around the world. Climate change is more severe than even we had thought. Populist governments in various countries are making the right to free movement of people increasingly difficult. Migrants and refugees are beaten back at an increasing number of borders. Trade wars are rocking existing agreements. Repression of all kinds is rife: against small-scale food producers and Indigenous People and all those who protest and want to see greater social, environmental and economic justice…
In this increasingly repressive climate, the role of our Urgenci Community Supported Agriculture network is key. Our collective efforts to build greater social, environmental and economic justice – with an obvious focus on food justice – means that every project, every collective action must clearly aim to create genuinely sustainable local food systems.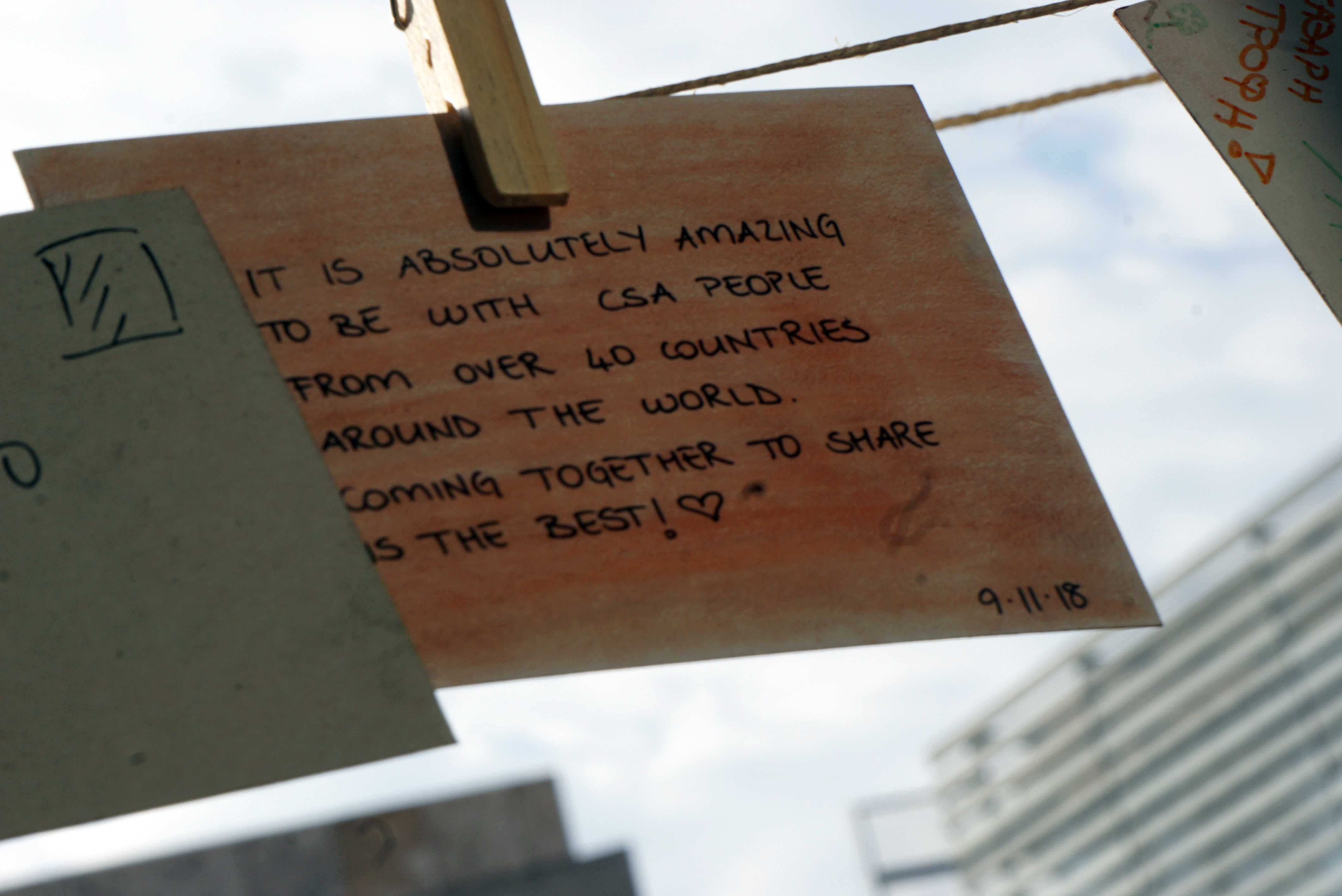 Our Symposium in Thessaloniki was an inspiring moment that consolidated our path forward on this collective road. And although we have not yet shared all the outcomes from the many complex, different threads of the meeting, some things are clear, and will hopefully start to develop in the coming year. The enthusiasm for building a joint effort to work on Community Supported Fisheries was overwhelming. Our Mediterranean Network that has thankfully received support from FAO is now a reality. As was the determination to mobilise the means to build and develop an Asian network, clearly expressed at the 10th anniversary celebrations of our Chinese network in Chengdu in December.
We have many on-going projects, and hopefully we will also start to build on new ones in the coming year. There will be new CSA management training sessions based the SolidBase research on financial sustainability of our initiatives. There will also be new countries involved in our CSA training programmes, thanks to the CSAct! project and our Mediterranean network. We also plan to develop a better understanding of how CSA groups and farms engage in the subject of farmers' seeds and cultivated biodiversity (DYNAversity). With the up-coming European elections, we will build shared positions on the Common Agricultural Policy thanks to our Voices project. We will also explore new connections between participatory guarantee systems and CSA through EatingCraft. These projects will provide us with the necessary logistics to implement much of our 2019-2020 action plan as agreed in Thessaloniki.
We look forward to sharing the developments of our network in 2019 with the millions of people in our global network, and collectively building a better, more equitable world where we can all contribute so jointly building a more optimistic future.