By Mariusz Sibila, Eva Riecanska, Monika Onyszkiewicz
Photo credits @KrotkaDrogaBazar (https://www.facebook.com/krotkadrogabazar/photos)
The story of the Bazar Ekologiczny Krótka Droga started to unfold in 2009 when a group of local activists in Wrocław set up the Falanster – a book store and a café. At that time, a delegation of consumers and farmers from France promoting short supply chains came to visit the city. They were part of the URGENCI[1] network and wanted to popularise the idea of ​​AMAP (French for Association pour le maintien d'une Agriculture Paysanne), a French version of the Community Supported Agriculture.[2] They asked the local NGO Fundacja EkoRozwoju, known for its involvement in promotion of alternative food supply chains and support for local and organic food producers, for logistical help and gave a few lectures for organic farmers from Lower Silesia. At that time, there was only about a dozen of such farms in the area, and the farmers already knew each other from local seasonal events, including the "Eco-market" that Fundacja EkoRozwoju had been organising for several years already. All of them were very keen to get access to customers in a big city.
Community Supported Agriculture is a system of cooperation between customers and farmers. Both the activists from Wrocław and the farmers found the idea of starting a CSA appealing – altogether three people: one from Fundacja EkoRozwoju (Monika Onyszkiewicz), one from the Falanster (Mariusz Sibila) and one person not associated with any organisation (Katarzyna Gawlicz). The farmers were generally quite well organised, many of them had modern farms, but they had their doubts which hindered them from starting a trade system based on trust. From the discussions between the representatives of the French CSAs and the farmers it became evident that this kind of cooperation was not established in Poland and therefore the questions arose whether it could be successfully established with their countryside neighbours. The customers were probably more enthusiastic and trusting, but even for them it was not easy to fully grasp the CSA concept, especially its the solidarity and community feature. It shifts their position from unattached persons for whom the market just meets their demands to  partners sharing risks and accepting natural limits of local farming.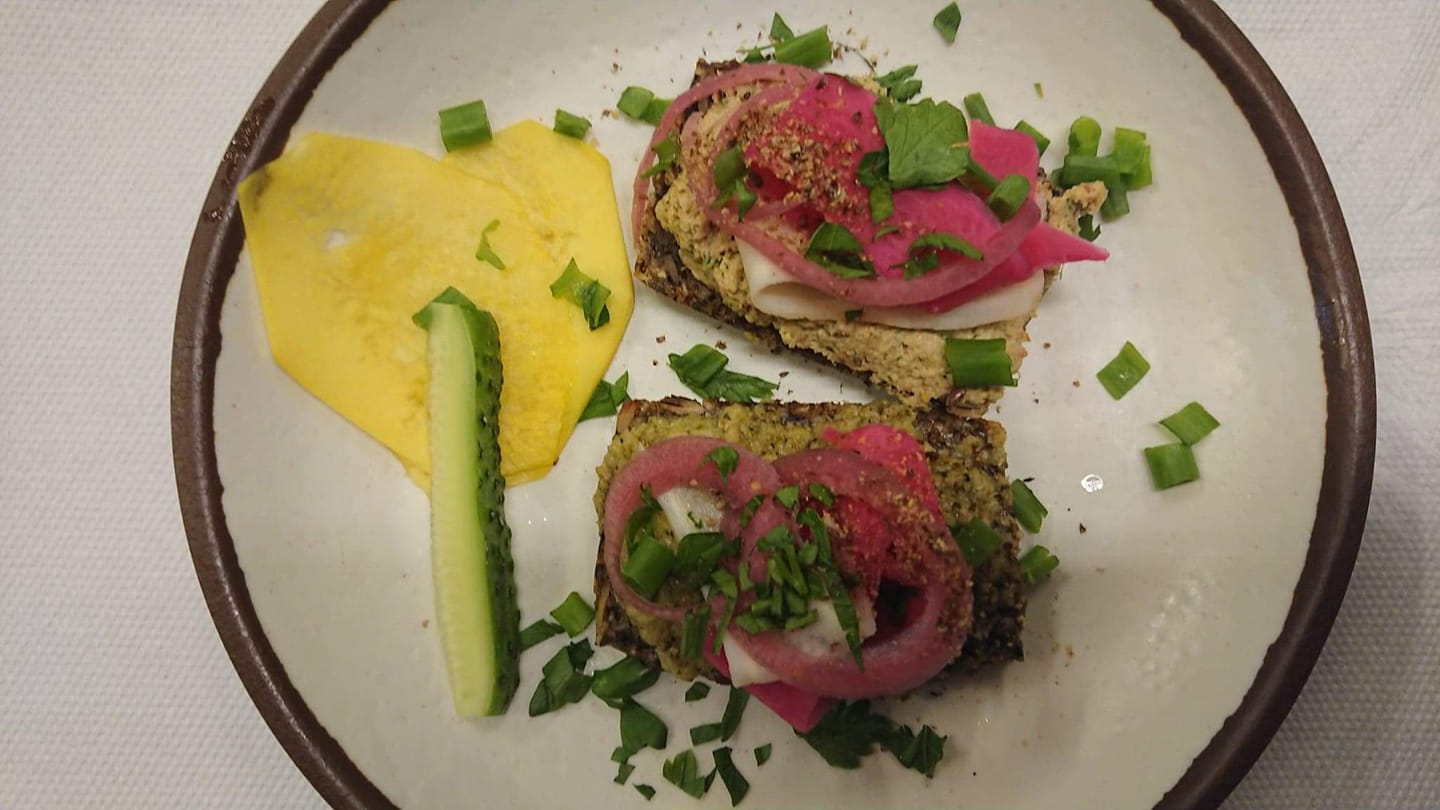 In Poland, various arrangements between farmers and customers have always functioned in one way or another, and – as in any long-term relationship – there is some room for closer relations and trust. Numerous neighbourhood markets (some of them still in operation), cars driving around neighbourhoods selling farm produce, side-road sales of produce from family allotment gardens, people travelling to the countryside to buy produce from farmers at bulk (potatoes, eggs, meat) – these are some of the examples. What seemed new about the CSA was the emphasis on sustainability and shared responsibility.
Many things seemed to converge. For several years the activist around the Falanster had held discussions about establishing a parcel system and there were various activities organised by Fundacja EkoRozwoju, such as the eco-parcel initiative and organic markets held twice a year in the centre of Wroclaw. The visit of the URGENCI representatives provided an impetus to start a food initiative in the form of the "short distance market" – Bazar Ekologiczny Krótka Droga based on the principles of short supply chains.
Initially, the market took place twice a month, but quite soon, when it turned out to be a success, it was organised every Saturday, and this is how it has been to this day. It was the first organic and local market of this kind in Poland, and it seems that it is still quite unique because of the way in which it is run, and because of a specific culture that has formed around it.
As a rule, decisions are made jointly with the farmers – each new farmer or seller joining the core of the team had to be approved by others. Long discussions were held on many occasions to what extent a new person's produce would enrich the offer and to what extent would it constitute a competition to the others. In the end, practice has shown that that each farmer had his or her own group of clients. Diversity has turned out to be an enrichment, not a competition. Farmers pay small fees for being part of the Bazar to cover the rent of the place at which takes place. The amount of the fee is related to the amount of space that the farmer needs. These simple, but in practice very demanding, rules related to running the Bazar (joint decision making, sharing the costs of the organisation and development of the market) create a sense of shared responsibility and "ownership" of the whole undertaking.
Conversations and meetings are a constant element of every Bazar. There are people who come in the morning to buy some of the products, and then, drinking coffee or snacking, spend several hours at the Bazar talking with other buyers and farmers. It is a tradition to have a common meal at the time of closing of the market if there are any leftovers – tasting of various breads, pates, juices or even a soup sometimes. Each year, a special Christmas Eve market takes place – not as a religious event but as a friendly meeting of a group of people with a common vision.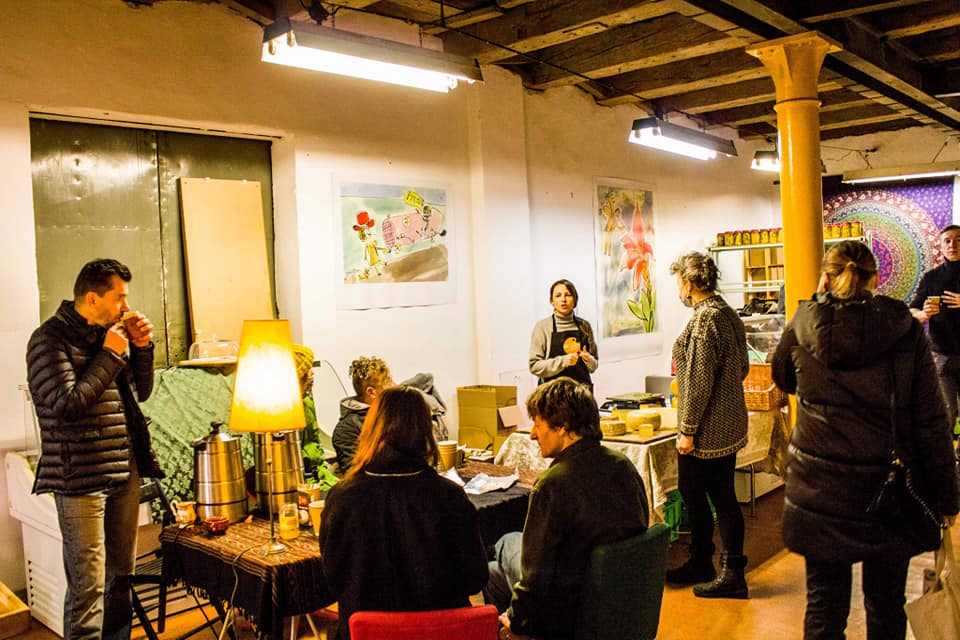 Since the beginning, the number of farmers has been more or less constant – about 12 people, but their composition for various reasons changes. Some of them went professional. e.g. dairy and cheese producers, some of them withdrew from jointly creating the Bazar because they were not able to relate to market's organisational form. Currently, the number of regular customers is about 200 people and the Facebook group has over 3,000 users. The market offers dairy products such as milk and cheese, eggs, bread, cereals, oils, delicatessen, cakes, juices, fruit preserves, pickles, vinegars and most of seasonal vegetables and fruits.
"In 2013 year, after almost 4 years of functioning of the Bazar, it was clear that our group consists of people looking for alternatives to the current food system. Our target group is mainly people looking for good quality food, often having health problems or very aware of the weaknesses of conventional food production. From the perspective of wealth, it is different. Some come out with full shopping bags every Saturday, others regularly buy selected products, preferring to eat less and of good quality than more, but highly processed, conventional food. At that time, two farmers took the risk of founding a "real" CSA group. They were extremely different people, with different motivations. Unfortunately, these attempts were unsuccessful – for one farmer the problem was too much willingness to please the consumers and the difficulty in assessing her own abilities. The second farmer proposed a model in which there was no room for shared responsibility, transparency and trust," says Mariusz Sibila, one of Bazar's founders and organisers. He continues: "The experiment with setting up a CSA group has not worked out so far, but this experience has taught us a lot. First of all, that it is worth sharing what we mean by cooperation, mutual support, shared responsibility. We have learned what our possibilities in terms of delivery, production, and finances)are, and what our expectations are. The idea of establishing a CSA group has been put on hold for some time, but the need for something more than the ' Bazar', something that would complement it and cl involve the farmers more closely, has not disappeared. The CSA idea is still alive in our minds."
Over the course of years, the Bazar has changed its premises several times. Its last moving was forced by the withdrawal of the city from the lease agreement on its premises in 2016. Hence, the Bazar had to relocate to the current headquarters of Fundacja EkoRozwoju. "Our cozy, cramped place had been put up for sale by the city of Wroclaw. Although the city has declared its willingness to provide us with new premises for the market and for our educational and artistic activities, the realisation process turned out to be lengthy and very bumpy. The city policy in Wroclaw is not very favourable to the activities of non-governmental organisations or grass-root artistic and educational initiatives. The city does offer premises to this sector at preferential rates, but these are usually very badly maintained buildings that require huge renovation investments," explains Sibila.
The activists organising the market share a common dream. They plan to establish a cooperative in which also farmers and other producers will be involved. Their aim is not only to simply set up a food cooperative, but also to find a way to integrate some of the production, and create a complex and integrated circle of growing, processing and sales to get even closer to fulfilling the principles of the food sovereignty movement. For instance, some Bazar sellers offer cakes, soups or dumplings or other ready-made food. Since they do not produce all necessary ingredients, they must order them from elsewhere (e.g. certain types of flour, cane sugar, lentils, chickpeas, hemp seeds, etc.). They have to do it on their own and it is not always easy for them to find all they need in an organic quality. Sometimes they are able to order from the same producer or wholesaler, but each of them has to negotiate the price individually, and their cooperation is limited to sharing information about their suppliers and exchange of contacts with others. Through the cooperative, they might be able to get their supplies in an adequate quality and amount. The cooperative might also be able to purchase processing devices such as an oil pressing machine or coffee roaster to be used by all members of the coop. Step by step, the coop could search for new solutions. "Perhaps one or more employees could be hired, depending on the scale of the project. A small margin on the goods could be introduced and used to cover the costs of transport, rental and maintenance of the premises as well as wages. The coop would skip any middlemen such as wholesalers." describes Sibila their vision for the future.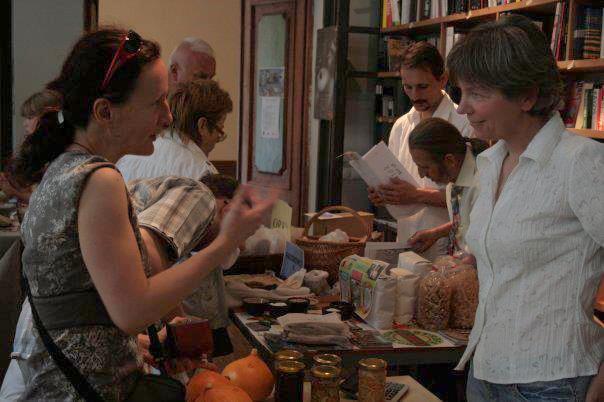 During the Covid-19 crisis, the Bazar and the community around it have proven their resilience. "On the demand side, as farmers themselves claim, they have never had such good sales of their goods. The sudden fear of being infected with Covid-19, the widespread panic when people were afraid to get too close to each other, forced us to leave the building and operate on the courtyard. After a few weeks, when more farmers wanted to join the market, we decided to look for a different, more independent and larger place. We had to choose from what was available on the market and we picked premises at Tęczowa street, 150 square meters, owned by a private developer. We had to pay a market rate for this facility but we had hopes that we could extend our activity there. We wanted to operate a second market in the middle of the week, find more sellers and organise a café. However, those plans have not materialised for many reasons, but they still are on our ´to-do list´," says Monika Onyszkiewicz, one of the initiator of the Bazar.
During the crisis the idea of the cooperative came to the fore again. It seems that this time more people were willing to join in. Each has different experiences and each has a deep desire to work on alternative economic system. Some of the farmers selling at the market have declared their willingness to join the cooperative as well. "We started to organise meetings at which we discussed how such cooperative would work, we invited more people. We officially established the cooperative on the 21st of March, on the first day of Spring, after several months of discussing the principles of its operation," adds Onyszkiewicz.
As of today, the cooperative provides goods from several regular suppliers that cannot be purchased at the Bazar, like oyster mushrooms, locally made plant-based yogurt, organic coffee, locally made tempeh, organic olive oil and olives from Andalusia. Also, some farmers who sell at the market are gradually adding their products to the shop offer.
In twelve years of its existence, the informal community that has solidified around the Bazar has clearly shown its strength and resistance to crises. Bazar's places of operation may change, new farmers may join in, or some of them may leave. But the number of customers who come to the Bazar every Saturday is still about 200..
At present, the biggest challenges are financial self-sufficiency of the Bazar and securing its stable premises. The community of farmers together with Bazar's main organiser Mariusz Sibila currently faces the problem of its further development. "This is not an easy task, as the concept of the social and solidarity economy, of which the Bazar is undoubtedly part, is not very popular in Poland. We straddle two spheres – the sphere of volunteering and that of a business. Trying to take into account social, ethical and environmental aspects while having to deal with competitors who do not care requires a lot of effort. The story of our community is still unfolding. We plan is to develop the cooperative to complement the weekly Bazar. and involve more local farmers. We also want to  build something more than just a store to include a coffee roastery, bakery and regular cafe. As a matter of fact," Sibila continues,"it all started from thinking about Utopia. In a sense, Utopia has never died. This piece of a poem by Mario Benedetti has been our inspiration:
How can I believe, said the man,
that the world has run out of Utopias?
How am I to believe, said the man,
that the Universe is a wreck?
Even if it is,
or even if death is just silence,
how am I to believe, said the man,
that Utopia exists no more?"[3]
More information:
https://www.facebook.com/krotkadrogabazar/
[2] See e.g. https://communitysupportedagriculture.org.uk/what-is-csa/