"How to Best Support your Farmer ?", 25 May 2021
Quite a lot of farmers feel isolated and desperate. Food communities can play a major role in providing social support. But it is not so easy to find the right balance between being listened in a supportive way and being scanned or monitored. Similarly, it is not so easy to ask for financial help. How to overcome the difficulty for a farmer to open his/her heart about financial issues, which are always a sensitive question? You're wondering how long does it take to build a strong food community? You want to hear from farmers who have gone through hard times and have recovered thanks to their food communities?
Food and More (https://urgenci.net/?s=food+and+more) is a project that tries to provide answers to these challenges. Food and More focuses on developing training and mentoring programs tailored to the needs of the members of Food Communities like CSA groups.
The main objective is to consolidate the growing food communities, including the CSA networks, and to encourage their members to be more active in their groups and to be more socially engaged.
During the webinar held on the 25th of May, the participants had a chance to hear from seasoned CSA farmers and core group members who have direct experience facing these challenges.
The panel was facilitated by Monika Onyszkiewicz, from FER, the Foundation for EcoDevelopment, based in Poland. Three great speakers introduced the audience with hands-on examples of how to make sure CSA farmers are fully supported by the consumer groups.
The first speaker was Libor Koznar. After returning from the USA, where he used to work as planner, but also graduated from the local farm school, Libor has been farming on a small organic farm of 11 hectares in South Moravia since 2016. He grows more than two hundred varieties – from different types of cereals, potatoes and pumpkins to tomatoes, lettuces, strawberries… The production is sold both in the form of boxes and KPZ, the Czech version of community supported agriculture.
Libor told a fascinating story of resilience: as he was facing major financial issues last year, the core group consumers from his CSA partnerships decided to support him. They managed to mobilize a lot of supporters through a crowdfunding effort that was extremely successful.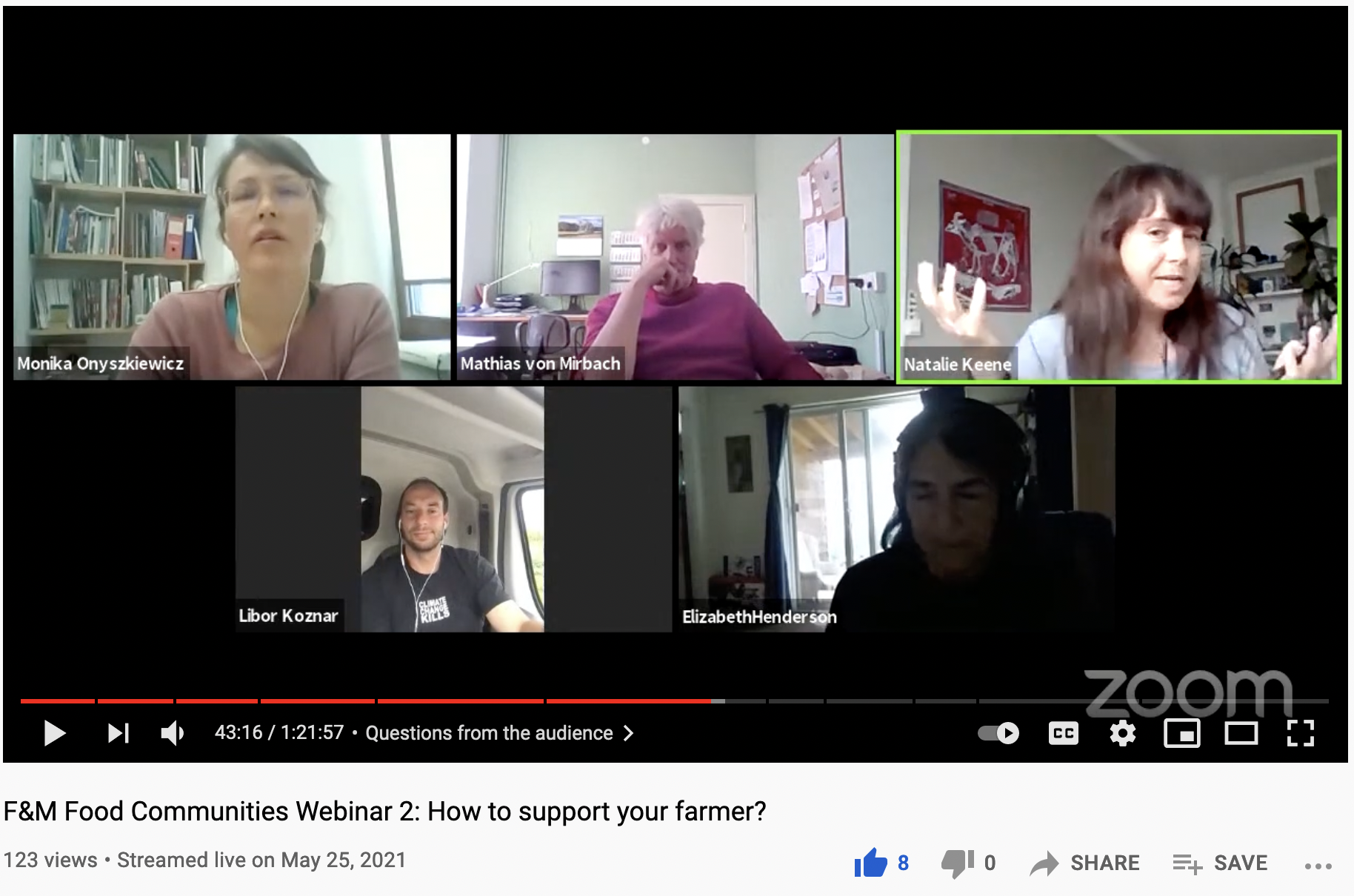 The second speaker, Natalie Keene, also had a lot to share in terms of getting consumers mobilized and ready to help. Nathalie runs 3 community based non-profit CSA's in and around Oslo, farming in two of them and managing the other. Nathalie works with a board of members on each of these farms, and all of them are organic, providing just veggies and herbs, no animals.
The farms are:
Kirkeby andelslandbruk, Oslo, the winner of the Oslo prize for best community garden in 2020
Tveten andelsgård, Oslo
Dysterjordet andelslandbruk, Ås.
Nathalie managed to get "food citizens" involved when she had to face an injury (a broken arm) that prevented her from farming.
The third speaker was Mathias von Mirbach. Mathias runs with a few partners the CSA farm Kattendorfer Hof in Northern Germany, close to the city of Hamburg. He founded the CSA 22 years ago. He and his partners have a mixed farm with dairy, grain and veggies on 450 hectares. They deliver to more than thousand members. Since the founding of the German Network, Mathias has been in the network's board until December 2020. Katterndorfer farm is interesting because it is a large-scale multiactivity farm, which is not so common in the CSA movement. It is managed thanks to the support of a large group of core group members, who are taking responsibility of some core aspects of consumption and distribution.
The audience took an active part in the webinar, and quite a few of the participants had a chance to ask their question live, from the floor.
The webinar has been recorded and is now available on URGENCI TV, our Youtube channel:
YouTube: https://bit.ly/3qbORho
This webinar was the first of a series of 3, where we will try to address some of the key challenges faced by food communities in their everyday operation.
Sign-up to our next Webinar "More Mentors for Stronger CSA Networks": on June 22nd:
https://zoom.us/webinar/register/WN_tPAX8pTYT1e0Bf0FKW70sQ
URGENCI Facebook: https://www.facebook.com/UrgenciCommunitySupportedAgricultureAroundTheWorld
URGENCI Twitter: @urgenci1
URGENCI website: https://urgenci.net
Ziva Farma (Libor's farm): https://www.facebook.com/zivafarma/about/
Solawi Network: https://www.solidarische-landwirtschaft.org/startseite
Czech CSA Network: https://www.asociaceampi.cz/english-version/
https://www.facebook.com/kpzky
Kattendorfer Hof (Mathias' farm) https://kattendorfer-hof.de/
Link to URGENCI's Youtube channel : https://www.youtube.com/watch?v=GQA27W7DBuU&list=PLUyT7_Ad3oJJe8J6NdIvFmHN6lt8XM4VW
Please fill out the evaluation survey to help us create better webinars! Thank you!
https://www.surveymonkey.com/r/H3DSXDC
The Food and More Project is supported by the Erasmus+ programme of the European Union.