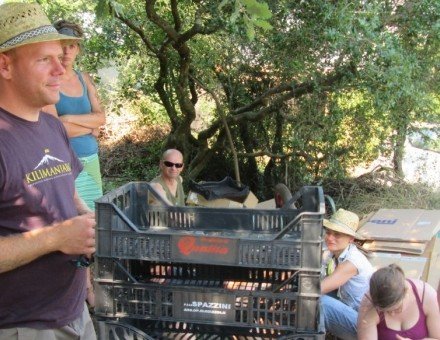 Paysans en PLS/ASC: Croatie, juillet 2014
Croatian workshop started on the 17th of July with the meeting point in Kunstcafe Cvajner where everybody gathered before heading to dinner. The visiting part took place around central Istria where we begun our journey with local medicnal herm farm running by Komić familly. We went from Pula at 8:00h heading towards Vodnjan where we were supposed to meet Emir before going to one of his fields. OPG Komić is engaged in the production of medicinal herbs, olive oil, honey and wild collection and production of products for the cosmetic and food purposes. Their concept of production is based on traditional use of Istrian peninsula herbs, with an emphasis on a scientific approach and the proper use of resources.  They are changing CSA members conciosness through education and practical workshops about the quality of the selection and use of products for food and cosmetics while highlighting the nutritional and medicinal properties.
After Emir's story about his approach to farming with herbs the group set out to visit Damir Janušić and his organic farm settled in Rovinj. Damir is a well known organic producer in Istrian region currently feeding 15 famillies through CSA. Upon arrival on his farm it was clearly visible alot of things are going on since the family is slowly transitioning from farming to agro tourism models. Damir showed us his fields with differnet varieties of tomatoes, swiss chards, onions but the plant which had the most interrest was organic tobacco. Although not a smoker Damir explained to the group that he is using it for pest treatment. Besides farming he is building a community kitchen, appartments and other buldings which would benefit their vision of a more relaxed lifestyle than farming. After lunch we had a small seed swap where Damir showed us his collection of traditional organic seeds and where everybody could share what they had with each other.
On the 19th the day was reserved for the most important event, the World Cafe session with local and european csa members joining together in tackling issues csa movement in europe is facing.  We started from Pula and went to visit Dairy farm Drijade which s situated in a romantic village of Šumber on the easter part of Istrian peninsula. They are cultivating 12 hectares of their own land and 50 hectares of county owned land to which 10 hectares is available for cultivation. There are 69 goats currently living on the farm (french alps milk goats), two traditional istrian cows (Boškarin), 5 horses, one dalmatian donkey, a couple of vietnamese pigs, three dogs, three cats and 25 chickens. The farm is envisioned to be a place where everyone can come in contact with animals and nature. Special care is given to emotions and needs of animals together with the approach of special kindness and highest conditions for quality of life.
After the farm visit and just before lunch we had the World Cafe session with the topic on Challenges in CSA. Our european group joined forces with local members and during two hours we managed to gather common issues CSA groups are facing. The idea was to gather stories and experiences from EU countries and apply our collective ideas to find lasting answers in tackling those issues.
The discussions were broken down in three working groups which changed participants after each 20 minutes round allowing us to have a cross polination of views and ideas on the given subject. Althought we all share the same values it has been evident that there are different forms and angles in working with the people. The part where we differ is in how to connect the dots and make a CSA system function effortlessly. The success of a CSA groups first and foremost lies in bonding with the people where communication, understanding and shared duties form a stable foundation for further progress. It's clear to all of us that the flow of information and links happens fast and requires reflection, systems thinking and firm guidance with everybody in mind.
The key points we gathered were:
1st Group
Talking about CSA – It costs!
Lots of work for coordinators (get people paid 10%)
Groups get too big for everyone to actively participate
How to involve more consumers
CSA as an aim (Not ready yet as a society)
How to find and motivate local farmers
Producer / Consumer comunication (How to make them feel like one)
Volounteer work (How to motivate people to work together)
2nd Group
Education of future producers
Differentiate payments (active, passive mebers)
Bad image of agriculture
Legal problems
Relationship between consumer/producer
Organisation
3rd Group
Fair price and transparency
Involvement of members
Communication (producers/buyers)
Quality of products
Commitment (producers/buyers)
How to communicate the idea of CSA!
Identity
The event took place in Pula and around on 17th to 20th July 2014. The coordinator of the event was Danijel Balaban, Tranzicijska Pula.