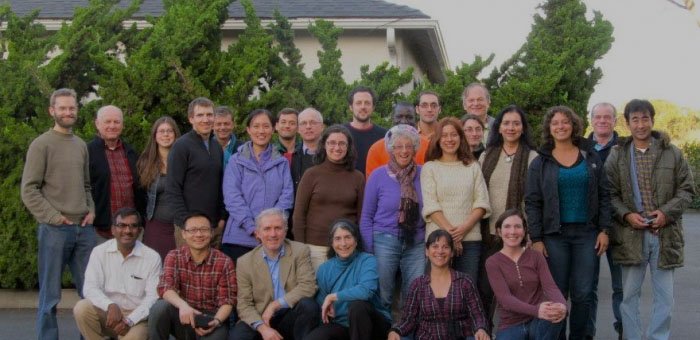 Kiera Mulvey (North America, consumer), Shinji Hashimoto (Asia, farmer), Shi Yan (Asia, farmer), Joy Daniel (Asia, consumer), Oumar Diabaté (Africa, farmer), Jerome Dehondt (Europe, farmer), Andrea Calori (Europe, consumer), Josefina Cendejas Guizar (Latin America, solidarity economy movement, consumer)
These IC Members were elected by consensus during the Vth General Assembly of the Network, in Monterey, California, 22nd January 2013.
Additionally, Elizabeth Henderson became the Honorary President of Urgenci.
Three special envoys: Fergal Anderson (Europe, farmer), as a special envoy for Europe and la Via Campesina; Samuel Thirion (Europe, consumer), Institutional relations and Judith Hitchman, advocacy.
Click here for the IC 2010-2013
We decided that there should be a pair for each focus area with most having a primary point person and a support person.
Advocacy, FAO – Andrea with support from Judith
IFOAM relationship establishment – Joy with support from Shinji + creation of a subcommittee
La Via Campesina partnership & connections – Fergal with support from Joy
Solidarity Economy and connections with groups focused on SE – Josefina with support from Judith
2015 China conference preparations, partnerships, and arrangements – Shi Yan with support from Shinji
African Network development – Oumar with support from URGENCI staff
President of Honour
Elizabeth Henderson, NY, US, farmed at Peacework Farm in Wayne County, New York, producing organically grown vegetables for the fresh market for over 30 years. She is a member of the Board of Directors of the Northeast Organic Farming Association of New York (NOFA-NY), and represents NOFA on the Management Committee of the Agricultural Justice Project. In 2009 NOFA-NY honored her with a Lifetime Achievement Award. Her writings on organic agriculture appear in The Natural Farmer and other publications, and she is the lead author ofSharing the Harvest: A Citizen's Guide to Community Supported Agriculture (Chelsea Green, 2007). She also wrote A Food Book for a Sustainable Harvest for the 300 members of the Genesee Valley Organic Community Supported Agriculture Project (GVOCSA) in its twenty fourth year in 2012.
President
Andrea Calori, Italy, is an Associate Professor in urban planning at Polytechnic Milano. Additionally, he has been working for several years now as a consultant on local food systems for municipalities in Europe and Latin America. His specialization is on designing food hubs and mapping to facilitate the connections between producers and consumers. Andrea can document the useful connections between public agencies and CSA networks. He is also one of the leaders of the GAS movement in Italy (GAS stands for Gruppo di Acquisto solidale, the Italian version of CSA) and, as such, was elected president of the International Committee of Urgenci in February 2010 in Kobe, Japan.
Vice-President
Shi Yan, Beijing, China. In 2008, as a graduate student, Shi-Yan spent 6-months at a CSA in Minnesota, then returned to Beijing and initiated the first CSA Little Donkey Farm and wrote a book My Alternative Farming Experience in the US. In the 5 years since, Little Donkey has grown to include 400 families who have garden plots at the farm and 500 member families who receive weekly farm shares. In 2012, Shi Yan has gone on to organize a second Beijing CSA: Shared Harvest CSA. She is also doing her post doctor research on Sociology in Tsinghua University. She and her partner Cumwang Cheng have also translated into Chinese Sharing the Harvest: A Citizen's Guide to Community Supported Agriculture, Farmers of Forty Centuries and Slow Money.
Secretary
Kiera Mulvey, WI, US is the Executive Director of FairShare CSA Coalition in Madison, Wisconsin, a non-profit organization working with 50 CSA farms and over 25,000 farm members to build and support the CSA movement in the region. Kiera is passionate about food, farms, and our collective efforts to build a vibrant local food system. Kiera's work as a teacher, farmer, urban agriculture educator, and organizer, motivates her to strengthen community connections and infrastructure to support local farmers and empower individuals to create lasting change through food.
Treasurer
Jérôme Dehondt, France, is the perfect example of a CSA consumer, whose commitment to the movement awakened a calling for farming. Then a professional military, Jerome first took charge of a CSA group in 2008. He progressively felt ready to take heavier responsibilities and became the administrator of the Paris AMAP network, and the spokesperson for the French national network, representing more than 1,500 CSA across the country. That was not enough for Jerome, who decided to become an organic vegetable grower himself: he moved with his wife and his son, bought land and started the production. So he is now a newly installed CSA farmer, whose knowledge is a rich combination of personal field experience and broader perspective on the CSA movement.
Other Members
Joy Daniel, India, is currently at the head of the Institute for Integrated Rural Development (IIRD), operating in the Aurangabad area of India where small-scale farmers survive on less that $1 a day. The IIRD has enabled over 10,000 mainly women farmers to move from organic farming by default to conscious use of organic methods of production for local farmers markets. Instead of third party certification, they have a Participatory Guarantee System (PGS); women who have gone through the IIRD training act as technical advisors and coaches to the others. Since most of them are illiterate, they use a verbal pledge to a list of 14 simple and clear standards. Joy is an active member of Urgenci and a powerful supporter of CSA in the international movements.
Shinji Hashimoto, Japan, is an organic vegetable grower from Ichijima, close to Tanba-City, a town which has been the focus of many regional and national policies supporting organic farming. Apart from its vegetable production, Hashimoto Farm is also producing eggs and operates as a training centre: 2-3 interns receive comprehensive training in organic farming each year. Shinji has been sitting in the International Committee of Urgenci starting from the foundation of the international network. He also took the lead of the Steering Committee for the preparation of the IVth International Symposium in Kobe, the biggest city close to his farm. Shinji is very active in raising awareness on the continuing tragic fall-out from the Fukushima nuclear plant in Japan, and the disastrous consequences on organic small farmers.
Josefina Cendejas Guizar, Mexico, is an academic from Mexico, who is very active in the REDCOOP cooperative movement, and in the RIPESS, the Intercontinental network of Social and Solidarity–based Economy.
Oumar Diabaté, Mali. Trained as a veterinary in the Soviet Union (Kazakhstan, Latvia, Moscow) in the late 80s, Oumar Diabaté later returned to his homeland, Mali, and started family farming to survive while he was waiting for the recognition of his diplomas. Thanks to the hands-on experience he gained in vegetable growing, Oumar became several years ago a recognized trainer in agroecology.
Oumar is now focusing on a Local Food Stalls –project: the goal is to develop direct sales on Bamako markets for local small producers that are just starting organic production. His experience of developing context-sensitive CSA models in sub-Saharan Africa is absolutely unique. As such, he was invited to a conference by the Millenium Foundation several years ago.
Special Envoys
Judith Hitchman, Ireland/France, responsible for advocacy is the representative of the international CSA network Urgenci in the Civil Society Mechanism of the United Nations Committee for Food Security and Nutrition. She takes positions on various issues that are important for CSA producers and consumers all over the world. Her report about the way CSA is increasingly identified and supported by some of the international institutions, but also increasingly targeted by corporate lobbies, is a key element for demonstrating the necessity of CSA networks. She also focuses on building bridges between the solidarity economy movement between the RIPESS (Réseau Intercontinental pour la Promotion de l'Économie Sociale et Solidaire) and the Food Sovereignty movement.
Fergal Anderson, Ireland, responsible for relations with the Via Campesina. After graduating from University with a degree in History, Politics and Sociology he moved to Brussels to occupy a full time staff position in the offices of the European Coordination Via Campesina in 2009. However, the urge to swap the computer keyboard for the spade accompanied him throughout his time in Brussels, and he has now moved back to Ireland to develop a CSA on five acres of his family's land in the West of Ireland.
Samuel Thirion, France/Portugal.