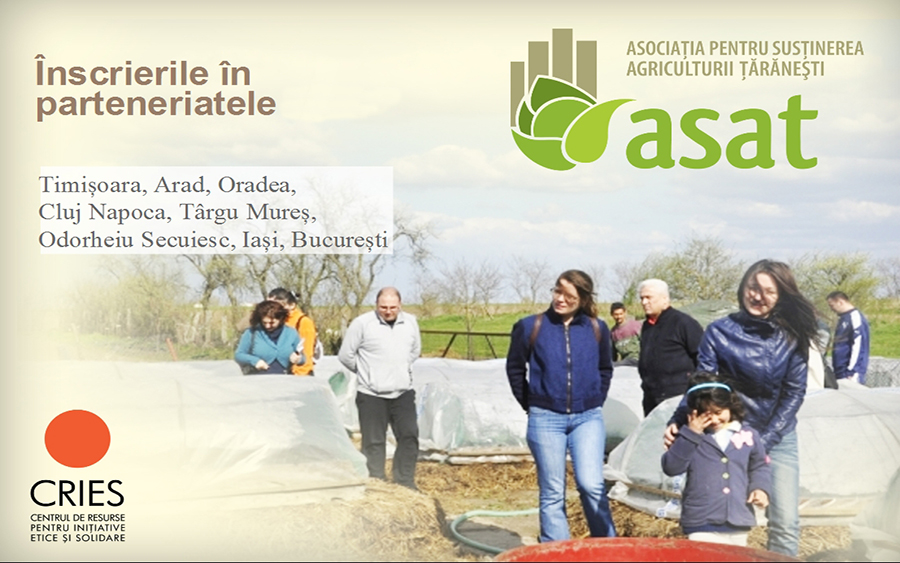 Evolution des partenariats ASAT en Roumanie
Jocelyn Parot, "Evolution of ASAT partnerships in Romania, and the role of small-scale farmers and groups of urban consumers in strengthening the model", August 2013.
Report from the ASAT Workshop held during the Final Conference of the project "Models of Good Practice in the Social Inclusion Area", in Timisoara, 16 May 2013.
ASAT stands for Association to support peasant (=small scale sustainable family) agriculture.
This workshop attracted a lot of participants (the room seemed too small for the 40 participants, and some potential participants couldn't join it because of lack of space). The discussion was lively and the whole exercise seems to have been a success, for 4 reasons :
The group had a large geographical representativeness ;
The fundamentals of ASAT are well understood ;
The ASAT movement has an history and its actors also contributed to the workshop ;
The ASAT movement has a future, and an additional, unexpected meeting was organised later during the day.
NB: the workshop was held in French and Romanian thanks to 2 great interpreters who ensured simultaneous and consecutive interpretation. English interpretation was also available for one person from Hungary.
1. Geographical Representativeness
Many different regions of Romania were represented, including Iasi, Bucarest, Cluj, Oradea, Targu Mures, Odorheiu Secuiesc and Timisoara. There were also two participants coming from Hungary, where there are also about the same number of CSA (Community supported Agriculture, the anglo-saxon version of ASAT).
This geographical representativeness allowed to think about the emergence of an ASAT community in Romania with common values and practices. 7 producers took part to the workshop, thus ensuring that their voice would be heard.
2. Fundamentals
Mihaela Vetan, Director of the CRIES, and Denise Vuillon, the first disseminator to come to Romania to present the French model of AMAP, restated the founding principles of the ASAT : risk-sharing, partnership, contract –based direct selling without intermediary. It seems these principles are well understood.
3. ASAT: Movement with a History
The ASAT model has a 5 year-history. Although it remained experimental until mid-2011, with only 2 or 3 partnerships, it has been developing at a strong pace during the 2 last years. In May 2013, there are 12 partnerships that can be called ASAT, totalling 12 producers and 242 consumers.
This development can be considered successful, since the objectives set by the CRIES have been focused on quality and strong partnerships rather than on quantities. The CRIES (Center of Resources for Ethical and Solidarity –based initiatives) in Timisoara has been working from the very beginning as the promoting organisation and as the coordination unit.
| | | | |
| --- | --- | --- | --- |
| NAME OF THE ASAT | CITY | EST. | CONTR |
| ASAT Ioan Jivu | Timisoara | 2008 | 100 |
| ASAT Marcel Haș | Timisoara | 2011 | 40 |
| ASAT Mia Leordean | Timisoara | 2011 | 35 |
| ASAT Dana Moldovan | Cluj-Napoca | 2012 | 15 |
| ASAT Doina Pascariu | Timisoara | 2013 | 16 |
| ASAT Tóth István | Timisoara | 2013 | 25 |
| ASAT Liviu Negrescu | Oradea | 2013 | 20 |
| ASAT Veronica Bărăian | Cluj Napoca | 2013 | 15 |
| ASAT Cosmin Suciu | Cluj Napoca | 2013 | 15 |
| ASAT Magyari Katalin | Odorheiu Secuiesc / Székelyudvarhely | 2013 | 17 |
| ASAT Petre Dragnea | Bucharest | 2013 | 15 |
| ASAT Marin Paraschiv | Bucharest | 2013 | 15 |
| TOTAL (12 ASAT) | | | 328 |
According to Jocelyn Parot, the General Secretary of URGENCI, the International network of CSA, the success of ASAT is due mainly to 3 factors :
Coherence: the CRIES has always stuck to the model : ASAT is not a box scheme, the contract and the prepayment are crucial aspects;
Creative communication strategy;
Excellent tools have been developed: the contract to be signed is also accompanied : a. by an estimation of the share content, month/month ; b. By a model to establish the price ; c. By the ASAT charter.
Moreover, this success has resulted in concrete and impressive changes on the farms. The example of a farm that has been during 2 entire years in ASAT is to be diffused largely. It shows that ASAT is also used in Romania as a powerful poverty reducing tool.
It was also reminded that these new ASAT were not established thanks to a magic stick, but that hard work had to be done, and CRIES team presentations about the ASAT or AMAP model have always been met with initial scepticism.
The history of ASAT in Romania was illustrated during the workshop by exchanges with people who have been part of the movement for some time already: Iosif Csatlos-Dima, Kinga Toth, Anca Gaidos, Adina Pătroc, Marcel Has.
4. Perspectives for the future of the ASAT in Romania
The three biggest challenges for the future of the ASAT movement are:
the implication of farmers who feel responsible for transmitting the model to other farmers, and for guaranteeing the other farmers' credibility;
the consolidation of autonomous ASAT groups;
the establishment of an independent ASAT coordination that would be dedicated to this topic. The EU funding has ensured large-scale coordination and local meetings during 3 years, now is time to find different sources of funding. As Mihaela Vetan explained clearly, it should be understood that there has never been direct funding from the EU to producers or consumers to do ASAT, but that only the coordination work has been partly supported. It is only thanks to the projects that are now ending that more than 40 ASAT meetings all across Romania could take place!
The participants understood that a new process had been launched during the workshop, and they decided collectively to join another, unplanned meeting later on the same day. It is indeed an opportunity to be at the end of a project, and in a position to launch a new one.
[layerslider id= »5″]